Alumni
AMC 'TURN' Screening Brings History and Hollywood to AU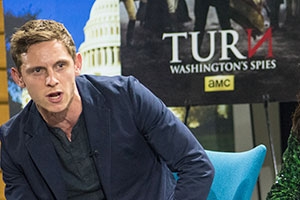 A big piece of Hollywood came to American University last week, as award-winning producer Barry Josephson, '78, and three leading cast members from the critically acclaimed AMC series TURN: Washington's Spies screened and discussed the series' Season Two premiere at the School of Communication. Following the advance screening, Josephson was joined on stage by actors Jamie Bell (Abraham Woodhull), Burn Gorman (Major Hewlett)  and Heather Lind (Anna Strong) for the post-screening discussion that ranged from moral and ethical dilemmas the characters faced in their time to the difficulties of filming in a historic location.
Josephson, who serves as the show's executive producer, has two Golden Globes and three Oscar nominations for his work, which includes over a dozen feature films including Enchanted and Men in Black and the television series Bones, now in its tenth season.  He is also on the Executive Committee of AU's Entertainment and Media Alumni Alliance, which co-sponsored the event with SOC.
The premise of the show is based on a book by Alexander Rose, Washington's Spies: The Story of America's First Spy Ring, that examines the Culper Ring. Josephson said he had fallen in love with the book while researching another project and optioned it.  He recounted that when TURN writer Craig Silverstein had pitched the show, he argued that at its root, TURN is a spy story, with all the suspense and drama of a John le Carré novel.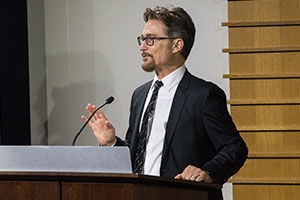 "TURN" executive producer and AU alumnus Barry Josephson introduced the advance screening.
The discussion after the screening, moderated by SOC Dean Jeff Rutenbeck, tackled questions of morality raised by the program, and the difficulties of sorting out right from wrong in the context of a war or an occupation. Gorman talked about the reality that good people could do bad things in the course of their official duties. Josephson seemed to embrace navigating the grey areas in which bulk of the story takes place.
The panel also showcased the attention to detail Josephson exacts in all aspects of production that help to make the program so compelling. From careful location selection to the purposeful costumes and props, these elements bring the 18th century to life not just for viewers, but for the actors as well. Lind explained that while dressed in her costume, serving drinks in pewter mugs, it was easy to imagine living in Revolutionary times. Bell shared that one of his favorite parts of his job is being able to go to work and enter the 18th century every day.
SOC students were thrilled by the chance to get a behind-the-scenes look at how a period drama comes together from a production angle, asking several questions about costume design, budget and the limitations and negotiations that must take place when filming in a historic site.  Josephson was glad to share his own expertise and praised the TURN crew, particularly TURN's Location Manager, for working closely with the individuals and institutions that manage the historic properties where the series is filmed. These relationships have given the series an added sense of authenticity and garnered a nomination for Outstanding Locations in a Period Television Series.
When asked how TURN fits into what many are calling a new Golden Age of television, Josephson said that the water cooler conversations these days are predominantly about television, rather than films.  He attributed this to several factors, including changes in technology and distribution. Josephson shared his excitement about having opportunities to tell stories and explore big ideas now in ways that were not possible - or at least not attractive to industry execs - a decade ago. From the enthusiastic response to the event, students and alumni are looking forward to see what big idea Josephson takes on next. See photos from the event.

Season two of TURN: Washington's Spies returned with a special two-hour premiere event on Monday, April 13. Subsequent episodes air Monday nights at 10 pm ET/PT.