Communications
AU Faculty Play Important Role at Investigative Film Festival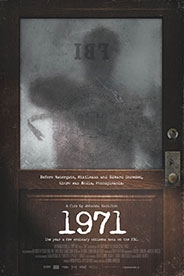 American University School of Communication faculty members played a prominent role at the inaugural Investigative Film Festival and Symposium.  The event brought together journalists, filmmakers, funders and strategic communication experts in early October to exchange ideas, resources and best practices.

Professor Charles Lewis moderated the panel Whistleblowers Then and Now – A Conversation Between 1971 Media FBI Burglars and 2013 NSA Whistleblower Edward Snowden. Lewis is a former ABC News and 60 Minutes producer, best-selling author and the founder and executive editor of SOC's Investigative Reporting Workshop.
The panel featured Edward Snowden – video linked from Russia – and the 1971 Whistleblowers who released confidential FBI files on political spying against Americans.
"Journalists need sources, and without access to sources and the First Amendment, we do not have a free press or a democracy," Lewis said of the topics covered at his panel. 
"Journalists and the American people know more about the uses and abuses of power in the United States because of courageous truth-telling citizens, who are either government or corporate employees who decide to "go public" with what they have witnessed." Lewis said.
Snowden and the 1971 COINTELPRO whistleblowers discussed their acts of resistance and similar motivations concerning privacy and First Amendment rights.
"It was hard to tell who was more impressed with whom." SOC Professor Pat Aufderheide said of Snowden and his predecessors.
.@1971Film subj John & Bonnie Raines, @JHamilton71, @BettyMedsger, David Kairys, Keith Forsyth & Chuck Lewis @IFF_DC pic.twitter.com/APB1FpgbpD

— Inves. Film Festival (@IFF_DC)
Aufderheide is the co-Founder of SOC's Center for Media & Social Impact. In her panel Dangerous Docs: A Report, she discussed a report published by American University's CMSI that quantifies the risks that investigative journalists and filmmakers face in their quest to expose truths.
"I was proud to be able to share results of our report on how to reduce risk when telling truth to power, Dangerous Documentaries, and was happy to hear it referred to on other panels as well." Aufderheide said.
Aufderheide discussed the importance of having SOC voices at the symposium, "SOC is a leader in teaching about longform audiovisual storytelling with a social purpose. Many of our faculty do excellent journalistic documentary work themselves."
Caty Borum-Chattoo spoke on a Meet the Funders panel. Borum-Chattoo is co-Director of the Center for Media & Social Impact and the Executive in Residence at American's School of Communication.
Meet the Funders featured lightning talks from leading funders of documentary filmmaking on strategies and the future of non-fiction filmmaking.  Caty Borum Chattoo led a conversation with panelists representing the Sundance Documentary Film Program, the John D. and Catherine T. MacArthur Foundation, and the Reva and David Logan Foundation as they discussed their funding strategies and insights for potential applicants.
Some of the most salient points drawn from the panel included the imperative of understanding that foundations are making business decisions, not donations.  
Filmmakers must make a business case for their projects, and connect the dots as to why a particular project fits a funder's portfolio.
Pat Aufderheide and her students further discuss their experiences at the symposium on the CMSi blog.