Journalism
Team USA dominates AU News Games
On October 7, four teams came on stage and matched each other question for question over two rounds for a trophy that epitomized news knowledge dominance. 
The event, the first-ever American University News Games were held in celebration of National News Engagement Day.
SOC Dean Rutenbeck opened the games. 
"We are proud to host this campus wide challenge to honor National News Engagement Day. The news games will be an annual event at SOC. Through a little healthy competition we hope to spark a tradition of using news and journalism as mechanisms to bring the AU campus together," said Rutenbeck. "May the news be ever in your favor."
Professor John Watson, director of the News Games cited statistics how students who drift after college, not finding jobs or settling down, are also those least engaged with news.
"The book Adrift' After College: How Graduates Fail published by the University of Chicago Press, was reviewed in The Chronicle of Higher Education last week. It highlighted five basic characteristics of 2009 graduates still found to be adrift. One of them is: They rarely kept up with the news or current events: About one-third read newspapers online or in print on a daily basis. Only 16 percent discussed politics and public affairs with a family member or friend's daily."
The News Games structure resembled the popular American television game show Jeopardy!, where contestants chose questions from a game board covering different news topics, worth different point values.
Participants were presented with general knowledge clues, and delivered a reply in a short answer, as opposed to a Jeopardy-like question. No points were deducted for wrong answers.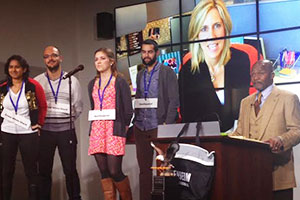 Alisyn Camerota, CNN news anchor and notable AU alumna, asked one of the many video questions during the event.
A highlight of the Games were video questions from notable AU community members including alumni and nationally prominent journalists, including CNN's Alisyn Camerota. 
The overall theme of the event was centered on the popular book and movie series The Hunger Games. Even the graphic logo mimicked the Mocking Jay symbol from the books and movies, although instead of mocking jay and a flaming arrow, the News Games used an American Eagle carrying a pencil. 
That trophy is won by showing that one team knew the news better than their competition. 
In the first round, Great White Shark (Mariam Baksh and Pietro Lombardi) competed against SamSquared (Sam Mendelson and Samantha Hogan) tackled questions on U.S. politics, pop culture, world news, business and health and science. After the final question was answered, team Great White Shark beat their opponents by 70 points. 
In the second round, Team USA (Drew Bailey and Justin Parker) beat News2Share by a close 10 points on topics of education, "no he didn't," science, business and the LGBT community. 
In the final round, it was team USA that took the trophy, wiping out team Great White Shark by 110 points. 
If you're interested in playing in next year's News Games, Drew Bailey, member on team USA says the best way to prepare is to be a news consumer. 
"Read the headlines. Always keep up to date with the news in whatever form of communication you use. If Twitter your main source of news, stay on it," said Bailey. 
Anyone interested in next year's News Games should keep their eyes open for team registrations on the SOC website.