Journalism
Alum Partners with SOC for
Online News Venture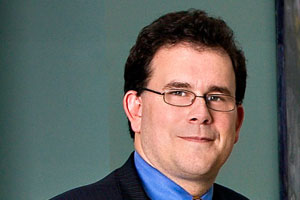 A new partnership has been struck between SOC and TBD.com, a website led by Jim Brady, SOC/MA '89, who believes it has never been a better time to be a journalist.
In opening remarks at a Reel Journalism event at the Newseum, Brady said he decided to partner with AU because of its ability to marry the latest new technology with sound journalism principles. "The School of Communication does things differently while remaining true to the core of journalism," Brady said. 
Brady said he is very optimistic about journalism because the opportunities beyond the mainstream media, including his soon- to- be launched blog, provide students unequaled career options. 
The new venture, a local Washington, D.C. news site backed by Allbritton Communications, owner of Politico, will compete with Brady's former employer, washingtonpost.com. Brady is hiring an army of bloggers for the project, and AU will assist the website with training bloggers and the website will use AU student-produced content and offer internships. 
Brady made the announcement before the movie Network was shown, noting, "Larry Kirkman, the dean of the School of Communication, and I were just talking about this film. The most famous line is 'I'm mad as hell and I'm not going to take it anymore.' Well now, journalism students don't have to take it anymore," he said, because the "opportunities have never been better than they are now."