International
Films Bear Witness to Migration Struggles in Oaxaca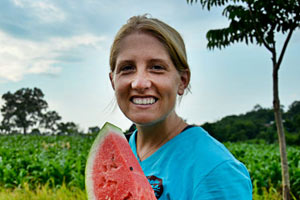 International Media student Kate Fenner, SOC/MA'11, presented her capstone project on her work in Oaxaca, Mexico at two November conferences, EPGA's Human Rights week conference and the American University School of International Service Abroad Symposium in November.
The hard work she put into her project paid off with videos that bring awareness to real problems and start to create dialogue, understanding and change around the phenomena of migration. "The entire experience, the amazing people I met and the challenge of documenting it accurately through video is something that will stay with me forever," said Fenner.
"My experience in Mexico was very eye-opening and humbling - on a personal and professional level," says Fenner. "The impact of migration on lives in Mexico can be devastating - physically, emotionally and economically. Yet people were willing to open up and discuss it with this strange, tall blonde girl and entrust me with the private details of their lives."
In 2010 she signed up for the 5-week SIS Abroad Summer program in Oaxaca, Mexico, where she reached out to organizations in the area working on migration to partner with to create her capstone project. Fenner worked with them for three additional weeks after her course ended for a total of 2 months in Mexico. She ended up partnering with Witness for Peace (WFP) to create three short videos on migration.
"We both wanted to create videos telling the local perspective on migration since in the U.S., the focus is so often on the impact within our borders," she said. "I wanted to give the people living in Mexico and Central America the opportunity to talk about how migration was impacting them in their local community. The end result was my master's capstone project as well as a powerful outreach tool for WFP that they have been showing across the United States while on a speakers tour."
Fenner says the response to the videos has been so positive that WFP is thinking about changing future speakers tours to include more videos of this type. "For my capstone, I wanted to create something that could have a 'life' and purpose outside of just my academic credit and am extremely happy that it has become such a useful tool for WFP."