Communications
American University Presents Research on Social Media, Big Data at AEJMC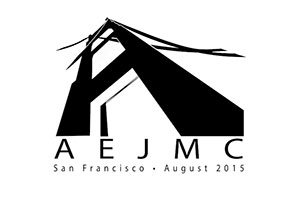 Recent American University School of Communication (AU SOC) graduates will present alongside eleven SOC faculty members and the SOC senior Associate Dean for Academic Affairs at the conference of the Association for Education in Journalism and Mass Communication (AEJMC) this week. View full schedule
After receiving master's degrees in Strategic Communication, Mike Radlick and Alana Rudkin wanted to further develop their individual capstone projects, so asked their SOC professor, Joseph Erba, for help. Erba, now assistant professor of strategic communication in the William Allen White School of Journalism and Mass Communications at the University of Kansas, agreed to collaborate with them over the past year to expand their projects; he is second author on both.  
On Thursday afternoon, Radlick, who now works at Come Recommended, and Erba will present the research paper "Exploring the Uses and Gratifications of Hispanic and White Facebook and Twitter Users."  At the same time, SOC Professorial Lecturer Pilar McKay speaks in the session "Gender, Sex and LGBT Sport in Advertising."
At the end of the day, Kathy Fitzpatrick, the first-ever SOC senior associate dean for academic affairs, will moderate the teaching panel session "Preparing Global Leaders in Journalism and Mass Communication."
Assistant Professor Deen Freelon appears Friday morning on a plenary panel on the implications of big data on teaching journalism and mass communication. The session will dive into the different types and sources of data that related to our field and the ramifications of using big data in teaching and research.
That afternoon, Jan Schaffer, entrepreneur in residence at SOC, will speak on the panel, "Who Will Serve the Civic Communication Needs of Cities?" which will examine the needs of our urban centers and opportunities to address them.
In the next session, Professor W. Joseph Campbell is a panelist for "Doing Recent History: The Place of the Recent Past in Media History."  He will share some insights he gained while writing his latest book, "1995: The Year the Future Began."
On Saturday, Assistant Professor Joseph Graf will present "Image, Issues and Advocacy in White House E-Mail Newsletters." And Professorial Lecturer Margot Susca will speak on "A Critical Legal Study of Minors' Sex and Violence Media Access Rights Five Decades After Ginsberg v. New York."
Then, alumna Rudkin and Erba present "Exploring the Relationship Between Myanmar Consumers' Social Identity, Attitudes Towards Globalization, and Consumer Preference." Rudkin, who recently moved to Myanmar to be the internal communications and community relations manager for Coca-Cola. She says that the job is a direct result of her research project.
SOC's Graf also teamed up with Erba, and University of Kansas student Ren Whei Harn to present "The Role of Cues in Perceptions of Online Discussion."  The paper stems from a research grant the Graf and Erba had secured while Erba was teaching at SOC.
Assistant Professor Carolyn Brown will present "Images of Great Women Across the Ages and Races" as part of the Commission on the Status of Women and Minorities and Communication Division session.
Associate Professor Wendy Melillo and Susca will both present during the Graduate Student and Small Programs Interest Groups Scholar-to-Scholar Refereed Paper Research Session History Division. Melillo presents her paper, "Exploring the Hero Archetype and Frontier Myth in Ad Council's Peace Corps Campaign, 1961-1970," which won first place for the session, while Susca delivers "'Here We Go Again,' Seven Decades of Debate But Still No Agreement Over How to Define Violence."
SOC Journalism Division Director John C. Watson joins Campbell for the Media Ethics Division and AEJMC Council of Affiliates PF&R Panel Session "The Pillory Effect: Public Shaming as a Function of the News Media."
As the conference comes to an end, Assistant Professor Scott Talan speaks on a teaching panel session, "Innovative Methods for Student Engagement appears on the Political Communication Interest Group and Communicating Science, Health, Environment and Risk Division."  Follow #AEJMC15 for conference highlights.