On Campus
American University School of Communication Hosts UFVA 2015 Conference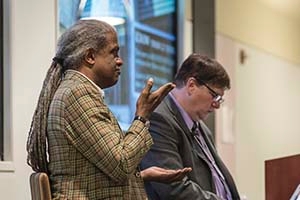 The 2015 University Film and Video Association Conference was held August 4-8 at American University School of Communication (AU SOC). The conference kicked off with a pre-conference event, CILECT North American and UFVA Docu-Day, followed by three days of programming designed to inspire, energize and challenge attendees. 
"This year's theme, 'Media With Impact: Engaging, Enterprising & Experiential', is the heart of our educational focus and the work within our Film and Media Arts Division," said SOC Associate Professor Brigid Maher, conference host and co-director of the Center for Media & Social Impact.  "We were honored to have esteemed scholar Elvis Mitchell, American film critic, host of the public radio show The Treatment, join us for our Keynote Conversation."

SOC had a strong presence at the conference, with 14 faculty members and 10 graduate students participating in more than two dozen sessions, including film screenings, panels and workshops. View conference agenda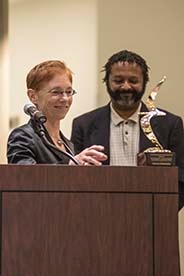 Three SOC faculty members, Patricia Aufderheide, Chris Palmer and Claudia Myers, were honored with awards.
Aufderheide is the first woman to receive the George C. Stoney award from the Documentary Working Group (DWG) of UFVA. The award goes to an individual or production team who demonstrate(s) the values that George Stoney promoted throughout his career — stories that represent the poor, the lesser known, the working class, and as a hallmark, engage social injustice themes.  Palmer has been named the 2015 Teacher of the Year. Myers was awarded UFVA's highest honor for feature filmmaking, the Award of Merit, for her film Fort Bliss.