Achievements
Professor Wins Award for Documentaries with Impact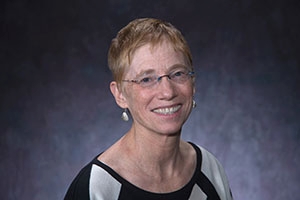 American University School of Communication (SOC) Professor Patricia Aufderheide is the first woman to win the George C. Stoney award from the Documentary Working Group (DWG) of the University Film & Video Association (UFVA).  
The award goes to an individual or production team who demonstrate(s) the values that George Stoney promoted throughout his career — stories that represent the poor, the lesser known, the working class, and as a hallmark, engage social injustice themes. In addition to documentary work, the prize may recognize writing as well as media advocacy work that is produced over time.
"I am honored to be recognized with this award," said Aufderheide, founder of the Center for Media & Social Impact (CMSI). "George was one of my mentors and heroes. My work as an academic and advocate is underpinned by a commitment to support media that can have real-world impact." 
Aufderheide's work, with Washington College of Law Professor Peter Jaszi, on expanding access to the right of fair use in copyright was instrumental in changing practice in the documentary field. Her research on documentary ethics has spurred national conversations. Most recently, CMSI released "Dangerous Docs: Reducing Risk When Telling Truth to Power."
Aufderheide has received numerous journalism and scholarly awards, including a research award from the International Communication Association in 2011, Woman of Vision award from Women in Film and Video (DC) in 2010, a career achievement award in 2008 from the International Digital Media and Arts Association and the Scholarship and Preservation Award in 2006 from the International Documentary Association. 
Aufderheide's books include "Reclaiming Fair Use: How to Put Balance Back in Copyright" (University of Chicago) with Jaszi, and "Documentary: A Very Short Introduction" (Oxford). Aufderheide has been a Fulbright and John Simon Guggenheim fellow and has served as a juror at the Sundance Film Festival. 
The award will be presented at the
2015 UFVA conference
, "Media with Impact," which will be hosted by SOC in Washington, D.C. August 4-8.