Television & Film
Professor's Feature Film Premieres at Festival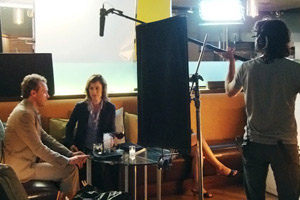 Below the Beltway, the satiric comedy produced by School of Communication professor Claudia Myers, will make its world premiere at the Newport Beach Film Festival on Friday, April 23rd. The ensemble cast features Kip Pardue (Remember the Titans), Sarah Clarke (Twilight, 24) Annie Wersching (24), Noah Wyle (ER), Xander Berkeley (Air Force One) and Spencer Garrett (21, Public Enemies). Nearly a dozen SOC students worked on the film which was shot on location in DC last summer.
The low-budget independent feature has become the talk of official Washington. It chronicles the adventure of a fallen-from-grace political operative (played by Tate Donovan from TV's Damages) as he attempts to resuscitate his career. The film takes a satiric peek at the people behind the power in Washington, DC. A disgraced political operative sets out to redeem his reputation by exposing a decade-old sex scandal involving a U.S. Senator. This light-hearted, tension-filled comedy culminates on a Sunday morning political talk show where careers are made and destroyed, unknown heroes emerge, and all get not what they want but what they truly deserve.
Below the Beltway has already garnered attention with stories appearing in Politico, The Hill Newspaper, The Washington Post, and mentions in USA Today and New York Magazine.
For information about the screening, please visit this site.
Myers wrote and directed the feature film Kettle of Fish, starring Matthew Modine and Gina Gershon. The movie premiered at the 2006 Tribeca Film Festival and was cited as one of the standout romantic comedies in David Carr's festival overview for the New York Times. Kettle of Fish was released in theaters last fall and has since been airing regularly on Showtime and TMC.
She also wrote the atypical buddy comedy Wild Oats, which won 2nd Place at the 2004 Slamdance Screenplay Competition. Wild Oats is currently in development with Shirley MacLaine and Ellen Burstyn in the leading roles, and Scott Marshall directing.
Myers has written several other screenplays including Clinical, which was a finalist at the 2003 Sundance Filmmakers Lab and The Fourth Trimester, a quarter-finalist for the 2008 Page Awards. Her short films have earned a number of awards and her short, Buddy & Grace, screened at the Sundance Film Festival in 2002. She is now nearing completion on Canary in the Mine, her first thriller.
Myers holds a BA from Yale University and graduated with an MFA from Columbia University's School of the Arts.