Communications
Five Continents in the Classroom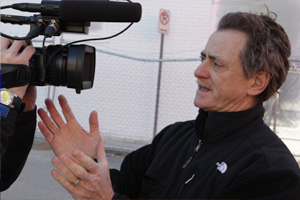 The School of Communication is known to bring in professors with expansive professional backgrounds who are still practicing their field, and Gentile exemplifies this with his extensive global correspondence experience, which continues to grow. 
"I've been at American University since 2003. Since then, I've created three courses. Photojournalism, Foreign Correspondence and Backpack Journalism," said Gentile. "The classes bounce off of what I've been doing for almost 40 years. The information and contacts I establish overseas and bring back to my students is invaluable." 
Of the three courses he has created, Gentile takes most pride in his Backpack Journalism course, which provides a strong sense of realities to the changing world of journalism.  
He is mapping the landscape of emerging techniques and technologies for visual storytellers and educating the next generation of video journalists in the spirit and tradition of photojournalism and documentary filmmaking. 
Gentile's career spans five continents. He has conducted workshops and video journalism presentations in the United States, El Salvador, Mexico, Guatemala, Nicaragua, Panama, Uruguay, Venezuela, the former Soviet Republic of Georgia and Cuba. 
For his latest film, he followed a team of female Kabul University law students from Afghanistan to Hong Kong in their journey to compete in the Vis Moot, one of the world's most prestigious international arbitration contests. This will be the first female team from Afghanistan to compete in the competition.

He's teaching the same skills to professionals in the field that he is sharing with his students in the classroom. 
"In the former Soviet Republic of Georgia, I worked with journalists who would take their Samsung smartphones into the field and perform the entire journalistic task by themselves," said Gentile as he described how he came up with the concept of the course. "They were shooting video with their phones, recording interviews for print stories, taking photos for multimedia and calling in their stories from the field." 
As the notion of a camera crew falls by the wayside in field reporting, the Backpack Journalism course focuses on reporters acting as one-man-bands by using handheld devices and the internet to communicate globally. 
Gentile said that he feels like it's his responsibility to make sure that his students are experiencing in class what the future of the field will be. 
"I not only have a professional responsibility but I feel like I have a profound moral responsibility to do everything that I can for my students," said Gentile.
To find more information about the Backpack Journalism course, visit http://www.american.edu/soc/backpack/index.cfm