Communications
Capturing Black History Month Through a Lens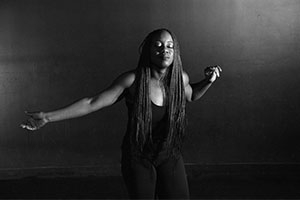 Outside of on-campus galleries, students rarely get an opportunity to display their work in a professional setting, let alone in a big city.
However, this semester, 21 American University students are participating in a group showcase with the University of the District of Columbia (UDC) at Studio Gallery in Dupont Circle.
In celebration of Black History month, the exhibition pays homage to the literature of the Harlem Renaissance. The idea came from former AU student and current UDC professor, Iwan Bagus.
"I think he really wanted to do something that represented his students," said SOC's Director of Photography, Leena Jayaswal. "By doing these projects students are learning about what other people are thinking or have gone through, and can better relate to those experiences."
The opportunity for students to showcase their work in a professional gallery is not only great exposure, but as Jayaswal explains, it teaches students more about the world, and understanding and respect for different cultures.
SOC's Manager of Photographic Services, Kaitlin Whitman, says people who visit Studio Gallery can expect to see an array of student work. Among those is SOC student Mitra Arthur's photo, inspired by Harlem Renaissance poem, 'Joy.'
When asked what being invited to participate in the gallery meant to her, Arthur responded, "I guess to quote Sally Fields, "He really liked me!" somebody thought enough of what I do as a photographer, to invite me to participate and it feels really great."
Arthur, a first-year graduate student, is working on her Film and Video MFA, and like the rest of her colleagues is very grateful for this opportunity.
"I think the students see this show as an honor to be a part of," said Jayaswal.
The exhibition will run February 4 to February 28, 2015, Wednesday – Friday 1:00 p.m.- 6:00 p.m. and Saturday 11:00 a.m – 6:00 p.m.