On Campus
Communication Professor Honored by AU GLBT Community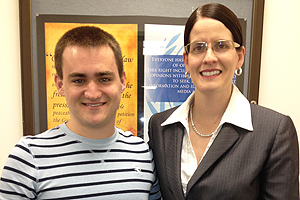 In her first year at American University, Professor Laura DeNardis has made a real impact on its GLBT community, and was presented with the Faculty/Staff Award at the annual GLBTA Awards Ceremony. The staff/faculty award is presented to "Faculty or staff who have shown great support to the GLBT community helped to diversify our campus and raised awareness of GLBT issues"
"I am honored to receive this award, proud to be part of American University's GLBT community, and especially grateful to be a faculty member in a school of communication that is such a welcoming and inclusive home for all students," said DeNardis.
She was nominated for the award by School of Communication sophomore Chris Jasinski.  As part of his nomination, he wrote, "She is an 'open-door' professor that is always willing to grab coffee or talk with a student about any subject. She serves as an inspiration and role model to the gay youth of this university as well as the community at large."
Jasinski first encountered DeNardis as his professor for a communications theory course, but says she challenges students both within and outside the classroom.
He explains the value "The undergraduate experience is entirely about growing, professionally and intellectually, in order to hit the ground running after graduation. Within these four years, life hits a student at full speed from all sides; emotionally, socially, mentally, and spiritually. College is not just about the academics and thus resources like professor DeNardis are ever invaluable. She is a mentor that supports students in stimulating their intellectual growth, providing sound professional advice, and serving as an example for the LGBT community."
Denardis is also featured in Jasinski's independent study project, "Out: The Narrative," an integrated documentary/strategic communication campaign Jasinski produced this semester with professor Caty Borum-Chattoo acting as advisor. The project uses stylized documentary storytelling as the centerpiece of an outreach campaign designed to offer support, solidarity and empowerment to GLBT and questioning students who come out during their college years. The key framing of the campaign is around the idea of young people "owning" not only their sexuality, but owning their own narratives during the key adult-identity-formation time in the college experience.
"Professor DeNardis proves that sexuality cannot limit one's success and does so with class, humility, and sincerity," says Jasinski. "This university and world alike need more people like her to build more understanding between individuals. I am proud to have been a student of such a wonderful person."