Communications
Dean's Picks: Communication Seniors Celebrate Success

Couric Named Commencement Speaker

News legend Katie Couric will speak at the 2014 School of Communication commencement ceremony. Read more.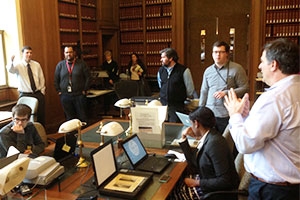 Bridging Wikipedia's 'GLAM' Gap

Professor Andrew Lih's students spread public knowledge, dodge social-media pitfalls. Read more.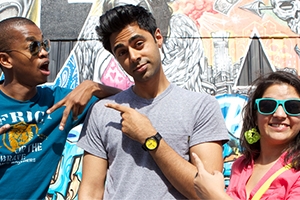 'Stand Up Planet' Leverages Laughs for Change

How one communication professor helped craft an international transmedia anti-poverty project. And made it funny. Read more.



Communication Seniors Celebrate Success

Lessons and connections for life post-graduation. Read more.

In the News



The Worldwide Debate Over New Rules for the World Wide Web
Communication professor Laura DeNardis appeared on WAMU's Diane Rehm Show and NPR stations nationwide to discuss the international debate over net neutrality rules and the critical need to successfully transition ICANN oversight to a multi-stakeholder model. Read more.


Snowden the 'Traitor' Looms Over Pulitzers
Prior to the announcement of the Pulitzer Prize for journalism, Agence France Presse spoke to communication professor Christopher Simpson about the conservative nature of U.S. versus European media coverage of national security issues pertaining to the Edward Snowden NSA revelations. Read more.

New Graphic Ad Campaign Targets Distracted Driving
With CBS Evening News, communication professor Leonard Steinhorn talked about how the most effective public service ad campaigns use shame and embarrassment to get viewers' attention and shock them into changing behaviors such as speeding, smoking, and texting while driving. Read more.


D.C. Museums Look to Movies to Expand Their Audience
In a trend piece about museums linking collections with Hollywood movie releases, film professor John Douglass spoke to the Washington Times about the benefits that these museums see in increased traffic. Read more.

Upcoming Events
Visions Awards Ceremony
Wednesday, May 7
Reception 7:30 p.m.; Awards 8:00 p.m., Forman Theater
Congratulations to the 2014 Visions Nominees


Public Communication Awards Celebration
Thursday, May 8 – 5:30-7:30 p.m., McKinley 101 Learn more

2014 SOC Commencement Ceremony
Saturday, May 10 – 9:00 a.m, Bender Arena Learn more
Follow #2014AUGrad for updates.
Please send your suggestions for Dean's Picks to Dani Rizzo.