Communications
Dean's Picks: SOC Faculty Behind Hits, from Lincoln to Lifetime
Latest Stories


Adding Ring of Authenticity to Spielberg's "Lincoln"
AU film and audio technology professor Greg Smith brought D.C.'s historic sounds to Spielberg's Lincoln. Read more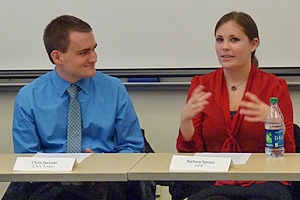 Dean's Interns Share Achievements and Tips
The highly competitive Dean's Internship opportunities available to School of Communication students were showcased at a recent panel. Read more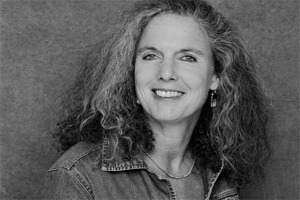 Lifetime Brings AU's Krasnow to TV Audiences
AU Professor and Author, Iris Krasnow inspires through her work and experience. Read more
Election 2012 Student Coverage

Check out SOC student coverage of the 2012 Presidential election. Learn more
In the News
A Trail of Clicks, Culminating in Conflict
Communication Studies professor Kathryn Montgomery spoke to The New York Times about how companies, like IHOP, use videogames to advertise to children. "Until there are some rules, marketers will continue to use what they have to penetrate children's lives. Without constraints, it could easily get out of hand." She also spoke to the Washington Post. Read Times and Post articles

Connecting Raw Video to the World
Professor Caty Borum Chattoo wrote a guest blog post for PBS Media Shift from the perspective on raw videos and storytelling as galvanizing products within the context of the newly-launched Link TV World News app for iPad, and also on positioning of the KCET/Link merger vis-a-vis digital development. Read more

Election Night Radio Commentary
Communication professors Dotty Lynch and Lenny Steinhorn provided commentary for CBS Radio from 7 p.m. through 2 a.m election night. "They're called swing [states] for a reason and we've seen in the past few months that it is quite close. Obama had a lead and that has narrowed, and that is what is making this a closer race," said Lynch. Listen to audio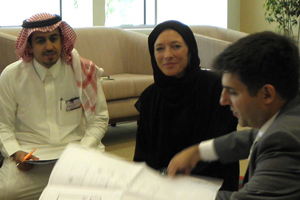 Roads of Arabia to Tour the U.S.
An extraordinary new traveling exhibition, Roads of Arabia, premieres in the U.S. at the Smithsonian's Freer/Sackler Galleries, with films produced by Professor Maggie Burnette Stogner. Over 300 artifacts, many recently discovered and never before seen in the U.S., reveal the largely unknown cultural history of the Arabian Peninsula. The exhibit is open in Washington D.C. until February 24, and then travels to Houston, Chicago, and San Francisco. Stogner was assisted by several AU Alum and graduate students in the making of the exhibition films as well as filming the U.S. footage for a one-hour special for the Smithsonian Channel. Learn more
Brown's Documentary Nominated for Two Awards
Journalism professor Carolyn Brown is a finalist for two different CreaTV awards (The CreaTV Excellence Award for Producing, and also The CreaTV Excellence Award for Directing) for her documentary "From the Fields: An American Journey". CreaTV is a public television non-profit in the California Bay Area. Learn more

What's New on the Monitors?
What's showing on the flat screens around MGC? Some of SOC students' top work including...

The new McKinley Building construction photo slideshow
Video of Digital News and Social Media students covering the 2012 election.
Upcoming Events
Author Daniel Kreiss: New Media and Political Campaigning
November 27 - 7:00 p.m., Wechsler Theater Learn more
Professor Greg Smith Discussion on film Lincoln
November 29 - 2:30 p.m., Wechsler Theater
5 Nights with Inspirational Women of AU moderated by Professor Iris Krasnow
Professor Dotty Lynch: Women and Politics
December 3 - 6:30 p.m., SIS Founders Room
CBS Political consultant Dotty Lynch, Executive in Residence in Public Communication, will give an insiderís view of what Election 2012 means to this country. She was the Political Editor for CBS News for 20 years and continues in the role of political consultant for CBS. This past election marks Lynch's 22nd election cycle in congressional and presidential campaigns as a professional journalist and pollster. Lynch will offer timely insights on the impact of the gender gap and minority voters as well as how the Tea Party factored into the results. Register
DC Startup Forum
December 5 - 7:00 p.m., Wechsler Theater Learn more

Please send your suggestions for Dean's Picks to Michael Wargo.