Television & Film
Using 'Drones' to Capture the Essence of Salinas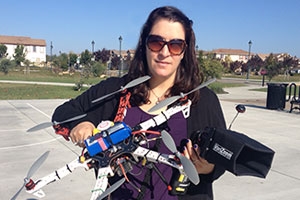 When working on the rough cut of my new feature-length film,"The Salinas Project," I realized this documentary would be much stronger if it included aerial shots of the Salinas Valley and the city. "The Salinas Project" was about a people and a place. The place was central to understanding the characters and the basic premise of the film. It was important that viewers be able to see the city of Salinas' proximity to the agricultural fields and understand the housing density in this primarily Latino immigrant community.

I knew I would need to make one more trip to Salinas to shoot some final footage. The problem was I wasn't sure how I would manage to support large helicopter photography without a budget.

Through some of my former TV news contacts in the Bay Area I was referred to Brook Dain. He was experienced in building and flying "drones"—multirotor RC helicopters—for aerial cinematography. Dain agreed to work with my limited budget, and we scheduled the shooting for October.

The three days spent flying helicopters were some of the most interesting of my journalism and film career. They went up to about 250 feet, within line-of-sight. Remote control aircraft have a legal limit of 400 feet in the U.S.

The helicopters certainly attracted a great deal of attention. Some people were interested in the technology, but some were skeptical of our intent. Corporate growers said they were worried about the privacy of their workers in the fields. I reassured the farm owners that the shots were taken from high enough that no workers would be identifiable nor would any signs be shot identifying the property.

View some of the footage we shot for the film here:



What I used to shoot aerials for "The Salinas Project"


A DJI F550 hexacopter—commercially available as a kit (measures 21 5/8 inches across). A GoPro Hero 3 camera mounted to the helicopter on a two axis brushless stabilizing gimbal.


A larger, custom-built carbon fiber and aluminum frame hexacopter, based on the Century Helicopters NEO design (measures 26 inches across). A Sony NEX-5N DSLR mounted to the helicopter on a two axis brushless stabilizing gimbal.


Both helicopters feature a DJI NAZA flight computer that handles stabilization with a combination of sensors. GPS is used for location, a magnetometer for heading, a barometer for altitude control, and inertial motion sensors for stability control. They are flown with a standard 2.4Ghz RC (remote control) helicopter radio system. The cameras are attached to a 5.8Ghz video transmitter to monitor and direct shots from the portable ground station.


Legal Limbo 
Under the FAA Modernization and Reform Act of 2012, the FAA is supposed to release guidelines for commercial drones by September 2015. There are several legal cases that are being watched closely, specifically the case against Raphael Pirker, a Swiss pilot fined $10,000 after flying his Styrofoam drone around the University of Virginia while shooting an ad for the university's medical center. The rules surrounding flying a RC aircraft, for profit, are currently a regulatory grey area. Read more from Scientific American.