Communications
Environmental Film Students Find a Hub for Support and Career Development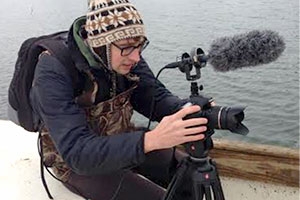 School of Communication students Shannon Lawrence, Will Reid, and Sam Sheline, are the 2015 Center for Environmental Filmmaking Challenge Prize recipients.  
American University professor Chris Palmer, founder of the Center for Environmental Filmmaking, created the annual Challenge Prize competition as an opportunity to recognize SOC graduate students who have overcome adversity, such as racism, poverty, marginalization, or personal tragedy, and plan to use environmental media to make the world a better place. 
Three to five graduate students are selected annually to receive the $3,000 prize, which will support the funding and creation of environmental and wildlife media. 
"The most rewarding part of working with the winners is helping them move their films forward in a significant way. $3,000 can make a huge difference to a graduate student and his or her ability to make a film," Palmer said. 
In addition, all awardees have the opportunity to work with Palmer on developing a five-minute presentation detailing their plan to change the world through environmental media. 
"Most of them will talk about how they overcome adversity and how their films reflect the wisdom and learning they have since developed. I believe there is magical community-building to be gained at SOC through public, personal reflections on matters of deep significance." Palmer said of the winners' presentations. 
The presentations will be given in McKinley's Malsi Doyle and Michael Forman Theater at a future Center for Environmental Filmmaking event.
 
Training Students for Stewardship, Success

The Center awards SOC student filmmakers more than $50,000 annually through Center-sponsored initiatives including the Center Scholars program, National Park Service Fellowship, and the Mavis and Sidney John Palmer Scholarship. 
Regarded as a hub for environmental filmmaking, the Center hosts numerous high-profile events each year, connecting students with professionals from a variety of organizations including film companies, nonprofit and advocacy groups, government agencies, and broadcast organizations.

In addition, Palmer makes an extra effort to include his students in his own professional work, and expose emerging filmmakers to the skills necessary to succeed in the industry. 
"[Professor Palmer's] classes are always engaging and he has a way of inspiring students to continue improving themselves," winner Will Reid said. "He does a great job of keeping up with what his students are doing both inside and outside of the classroom. He's very much invested in us as people and in helping us to strategize how we can best achieve our goals."
The Center's mission is to inspire a new generation of filmmakers and media experts whose commitment to environmental stewardship drives them to produce creative work that is informative, ethically sound, entertaining—and makes a positive difference.  
"I hope to create independent films, working in a writing and producing capacity. I am equally interested in pursuing opportunities in documentary and in fiction filmmaking, but I have a goal of contributing my talents to projects focusing on social awareness and social change." Shannon Lawrence said of her post graduation plans.