Television & Film
Focus on Military Families at VIP Screening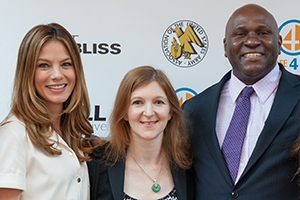 Senior active duty and retired military joined high-level public officials September 16 at the Women in Military Service for America Memorial in Arlington, VA, for an invitation-only VIP screening of Fort Bliss, written and directed by Claudia Myers, a School of Communication professor at American University.
The film, which premieres in theaters September 19 in New York and LA, casts a light on the sacrifices borne by families of the women and men who serve in the military.
Fort Bliss is a supporter of the White House's Joining Forces initiative, which was represented at the event by Executive Director, United States Army Colonel Steve Parker. Major General Donna Barbisch moderated the Q&A with director, producers and cast. The VIP event also drew high level public officers from veterans' service organizations, as well as civilian educators and mental health professionals.
The event was coordinated by Mike Hardy, an associate producer on the film. Hardy, an Army veteran who did two tours in Afghanistan, earned his master's degree from AU in film production and video in 2012.
Also in attendance was Michelle Monaghan (Source Code, True Detective) along with cast members Emmanuelle Chriqui (Entourage, The Mentalist), Pablo Schreiber (The Manchurian Candidate, Orange is the New Black) and Gbenga Akinnagbe (24, The Taking of Pelham 1 2 3).
Monaghan plays the central role of a decorated U.S. Army medic and single mother who returns from an extended deployment to Afghanistan to find she must rebuild her relationship with her five year-old son.
Myers praised Monaghan's portrayal.
"I'm proud of the look and the level of authenticity we were able to achieve [in Fort Bliss] but I think above all, I'm proud of the performances. Michelle Monaghan is incredible as Staff Sergeant Maggie Swann. She delivers such a nuanced performance."
Myers said that the seed for the film was sown while she was researching at Fort Bliss in El Paso, Texas for an Army training film in 2007.
"I had met an infantry sergeant who was a single dad and had deployed twice to Iraq. Because the mother was not around, he told me he had made arraignments to leave his son with the neighbors during his two deployments," said Myers.
"As a mother myself, I became interested in the stories of female soldiers and single mothers and how they tried to balance the demands of two very different worlds."
While Fort Bliss is a work of fiction, the film bridges the civilian-military divide by raising awareness in the general public and encouraging dialogue about the current challenges facing our veterans and their families.
Fort Bliss debuts in theaters and On Demand September 19, 2014