Communications
Game Design Student Scores at GDC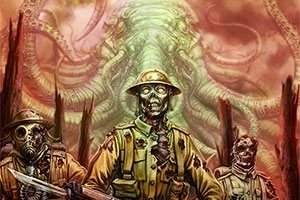 Kim Himmer snagged a coveted spot presenting at the prestigious Game Developers Conference (GDC) in San Francisco, Calif., this spring. All it took was six hours, a video game and a lot of note-taking.

The GDC Game Narrative Advisory Board named Himmer, a student in the American University Master of Game Design program, a Gold-level winner for her narrative review of "Call of Cthulhu: The Wasted Land."

"You sit down and play a game on your PS3, PS4--you don't really think much about it," Himmer says. "But when it comes to actually having to analyze a game it's not like a book where you can flip to page 60 to get that quote from the protagonist."
In order to properly analyze "Call of Cthulhu: The Wasted Land," Himmer had to get savvy about how she documented her findings. The use of game play recording software, pausing the game to take notes, and screen captures were key tools in helping Himmer accurately document what she would include in her review.
This wasn't the first time Himmer sat down with "Call of Cthulhu." Last summer, Himmer researched how World War I was represented in different games. The research lead her to "Call of Cthulhu" and her work was presented at conference at the United States Military Academy at West Point.
For this project, the game's rich story development made it a good choice for a review.
"Any game that invokes literary traditions of H.P. Lovecraft and T.S. Eliot is just begging for a narrative review," Himmer said. 
"It was easy for me to break down that narrative, because I have a master's degree in English Literature. So, that's where I'm comfortable. Although it was not an easy paper to write, it was in my comfort zone, academically. It was a good fit for me." 
As an English Literature Professor at the U.S. Naval Academy, Himmer routinely teaches digital texts and games alongside more traditional codex-based narratives.

Transitioning from literature into game design might seem a bit odd, but Himmer says that both fields have similarities. "It's just another mode of storytelling, really," Himmer said about game design. "I think that stories in games have been generally dismissed, but I just think that it's a new mode of storytelling. [I]f you look at storytelling and mythology, culturally that's how knowledge was handed down."
"That's how the mores of a society were handed down and I think that there's a lot of space to do that in video games. And that's why this (game design) program and persuasive play is more aimed at how do we pass along knowledge, how do we teach."
Before She left for San Francisco, several professors gave Himmer advice on navigating the conference.

Josh McCoy, an assistant professor in the Department of Computer Science, told Himmer that the privilege of presenting a narrative game review at GDC can catalyze a career.
"He said 'You know, people have launched careers and Ph.D. aspirations and all sorts of different things just from having one of these posters displayed at GDC,' " Himmer said.