Communications
Kill Screen Founder Inspires Students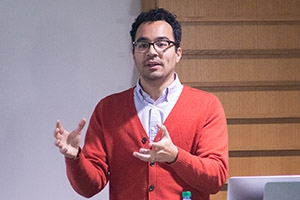 Nearly 100 students from American University and visiting colleges filled the Forman Theater on Saturday, October 25, for the second annual Games for Good, Games for All summit, "Launching your Career in Games and Gaming."

The free event brought out gamers and graphic designers with different levels of experience to learn more about the trade through lectures, workshops and invaluable tips from keynote speaker Jamin Warren.
Warren, founder of video game arts and culture company Kill Screen and former culture reporter for the Wall Street Journal, coached the attendees on how to inject game design into national conversation. 
He asserted that video games are the new research and development for future-facing brands. 
"The future of games isn't technology, it's culture," said Warren. "Games are desire-based use cases for technology. If you watch what's happening in games, you'll see future trends." 
Warren said that gaming involves more than just enjoying them in their free time, it's about uniting diverse people.
"People like video games because of the rules of the game," said Warren. "Rules create a sense of community for everyone playing."
For graphic designers, Warren pointed out how many games are developed based on how people view the world. 
For those students who were more interested in the technical part of game development, Warren offered two suggestions for what needs to be done for games in the future:
1.   When you develop games, "look at them from the outside in. Meaning, look at other conversations that are happening in other mediums outside from your own." Then, think of ways to make your games "applicable to your everyday job whether you work for a university or a law firm," said Warren. 
2.   Future game developers need to make it their job to make "the invisible, visible." Games play an important role in "building bridges to islands and lay the stones for the foundation of gaming," said Warren. 
The event was coordinated by American University School of Communication in collaboration with Scripps Howard School of Journalism and Communications at Hampton University.