Communications
Media Innovators Join JoLT as Professional Fellows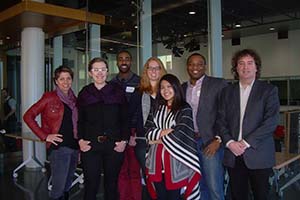 Five professional fellows have joined the inaugural JoLT cohort at the American University School of Communication, bringing a wealth of expertise in digital communication, user experience, game design, and entrepreneurial instinct to the initiative.
The JoLT initiative is aimed at defining disruptive leadership in media and journalism. Funded with a $250,000 grant from the John S. and James L. Knight Foundation, JoLT builds on AU's new Master's of Game Design, kicked off in 2014 as a joint program of the SOC and the College of Arts and Sciences. The fellows, media leaders themselves, will collaborate with three Student Fellows in game design to rethink journalism leadership and news today. Fellows will bring their own experiences to the project and participate in JoLT leadership development events.
The fellows are: Maggie Farley, an award-winning foreign correspondent at the LA Times, who created a game to teach Chinese to children; Mitch Gelman, Vice President for Product, Gannett; Tory Hargro, Design Manager, USA TODAY; Matt Thompson, Deputy Editor at Atlantic Media; Bob Hone, freelance UX Designer, Lecturer and former Creative Director at Red Hill Studios.
They will work to reorganize the way media are communicated, analyzed and produced from a leadership perspective. This includes participating in two D.C.- based summits, the American University Game Lab and a host of forward-thinking iterations on leading change in media engagement.
The professional fellows will play a key role in shaping the process while working to drive change within their media organizations. Additionally, they will bring projects to the JoLT team to develop.
Through the JoLT programming, "ideally we want to figure out how to create a culture of sustained disruption in media businesses today," said SOC Dean Jeff Rutenbeck. "I cannot think of a better group of forward-thinking professionals to lead the way."
Meet the Professional Fellows
Maggie Farley spent 14 years as an award-winning foreign correspondent and reporter for the Los Angeles Times. She was based in Hong Kong and Shanghai, covering Southeast Asia and then China before returning to New York to head the U.N. Bureau. Farley hopped to new media from old media in 2009, as a partner of Lucky G Media, creating educational content for the web and the iPhone. Lucky Grasshopper, an animated app for learning Chinese characters, hit the App Store's top ten in educational apps in 2010. After Lucky G was acquired in 2011, Farley has been designing digital education projects for Pearson Foundation, bgC3, and the News Literacy Project.
As Vice President, Product for Gannett Digital, Mitch Gelman oversees engineering, design and operations for the company's media properties, including 46 broadcast television and 81 newspapers. In 2014, he led the company's work in experiential storytelling, applying virtual reality, gaming interaction and 360-degree 3D video to news coverage. Previously, he has served at CNN.com as Senior Vice President and Executive Producer, Executive Editor of SI.com, and editor-in-chief of ESPN.com
Tory Hargro is the design manager at USA TODAY. With over 10 years of experience at the intersections of design, technology and news, Tory leads a talented team of developers, producers and designers in the creation of new visual storytelling forms. Based in McLean, VA he is also a part of USA TODAY's Network national News desk, a team charged with creating engaging digital stories and applications for over 100 news properties. A recipient of the 2012 Gannett Digital Excellence Award, he has received multiple Society for News Design Awards throughout his career.
Bob Hone has had distinguished, award-winning careers in engineering, journalism, interactive design, and videogame production. He was one of the producers of the Peabody award-winning PBS television series on the history of the computer, The Machine that Changed the World. As Creative Director of Red Hill Studios, Bob directed the design and production of educational iPad apps, online educational games, health games, museum exhibitions, educational game research, and broadcast television documentaries. He was the lead designer of the acclaimed Painting with Time: Climate Change (Yale Forum Top Climate Change App 2012) and BeThere: San Francisco (an innovative virtual presence app).
Matt Thompson just started this January as the deputy editor of TheAtlantic.com. Previously, as Director of Vertical Initiatives (and Mischief) at NPR, he worked with teams across the company to guide the development of topic-focused verticals covering race, ethnicity and culture; education; and global health and development. He also taught media and technology management in American University's MA in Media Entrepreneurship program. He currently serves as the vice-chairman of the board of the Center for Public Integrity, an investigative journalism nonprofit. He's also the co-founder of an organization called Spark Camp, which convenes diverse groups of leaders from a variety of industries.
"All I can say is 'wow,'" says AU Game Lab Director Lindsay Grace. "Our discussions with these fellows already have been enlightening and we haven't even started yet."
The professional fellows join three student fellows, named earlier by the School of Communication. They bring a range of digital, journalism and academic skills to the innovative initiative.
About the American University School of Communication
The School of Communication at AU is among the nation's top communication schools, with researchers, students and programs focusing on the intersection of media, technology and society. Located in the nation's capital, American University is a leader in global education, enrolling a diverse student body from throughout the United States and 140 countries.
About the John S. and James L. Knight Foundation
Knight Foundation supports transformational ideas that promote quality journalism, advance media innovation, engage communities and foster the arts. The foundation believes that democracy thrives when people and communities are informed and engaged. For more, visit www.knightfoundation.org.