Journalism
J-Lab Lands Award-Winning Journalist
as Editorial Director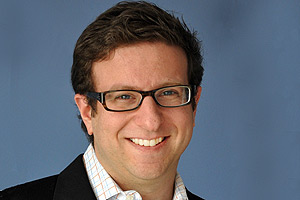 Andrew Pergam, an award-winning journalist and Managing Editor of NBCConnecticut.com, has been named the new Editorial Director for American University's J-Lab: The Institute for Interactive Journalism. Pergam, a former television reporter and digital newsroom leader, has taken a keen interest in local online news and the future of journalism as a whole. "I'm thrilled to become a part of such a forward-looking organization," Pergam said. "J-Lab's reputation for innovation is exceptional, and I am honored to join the team."
At NBCConnecticut.com, Pergam was responsible for strategic growth and editorial operations. Prior to that, he served as an on-air reporter who, in addition to his regular duties, created original online programming for a division of NBC Universal.  
Described as "one of the very few smart, aggressive players in CT online news," by a Hartford Courant columnist, Pergam has also been recognized as one of the "Forty Under 40" by New Haven Business Times. He has won numerous awards for his broadcast reporting and recognition for his involvement in community organizations.
At J-Lab, Pergam will work with J-Lab grantees, commission and edit training modules for the Knight Citizen News Network, help reward innovations in journalism, and build more resources for professional and citizen journalists who are launching news initiatives in their communities. He starts as the March 1 deadline nears for grant proposals for community news startups under J-Lab's "New Voices" program, funded by the John S. and James L. Knight Foundation.
"His career is a classic example of how journalists are reinventing themselves to thrive in the digital age - a core theme of J-Lab's mission," said Jan Schaffer, the center's executive director.  
Pergam earned a master's from Columbia University's Graduate School of Journalism and attended Johns Hopkins University as an undergraduate. 
The move is a return home for Pergam, who worked at WRC and WAMU while growing up in the Maryland suburbs. Pergam joins J-Lab in early February. You can follow him on Twitter @pergam, and J-Lab @jlab.