Alumni
Jason Gold Nabs 2015 Rising Star Award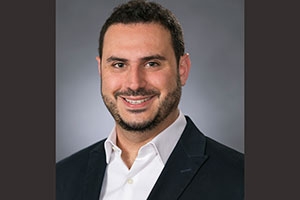 American University is known for its accomplished alumni. AU graduates are thought leaders, business leaders, and world leaders.

The Rising Star Award recognizes young alumni (those who received their degree within the last 10 years) who are already making significant contributions to greater society through professional or philanthropic work.
Jason Gold, (SOC/BA'05), is vice president of production at AMC Television. He oversees the day-to-day operations of AMC Network and AMC Studios' scripted series, including "The Walking Dead," "Better Call Saul," "Fear The Walking Dead" and "Turn: Washington's Spies." He was a production executive on the Emmy- and Golden Globe-winning series "Breaking Bad" and "Mad Men," as well as "The Killing," "Rubicon," "Low Winter Sun," "The Prisoner," and several other pilots and web series. He is also supervising upcoming series, including "Into The Badlands," "Broke" and the pilot for "Preacher." Mr. Gold began his career at AMC in 2008 as production coordinator.
Prior to working at AMC Television, Mr. Gold was an assistant at the Kaplan Stahler Gumer Braun Agency before moving on to DreamWorks SKG. Shortly after, he worked as a literary coordinator at Artist International Management.
Mr. Gold is a member of the Academy of Television Arts and Sciences, the Hollywood Radio Television Society, and was selected to the inaugural HRTS Next Gen Committee in 2011. He is also an avid supporter of the AU community and the Entertainment and Media Alumni Alliance.
Earlier this year, he returned to campus for an engaging discussion with SOC Dean Jeff Rutenbeck about the renaissance of television and to share his experiences working in the entertainment field.