Alumni
The Renaissance of Television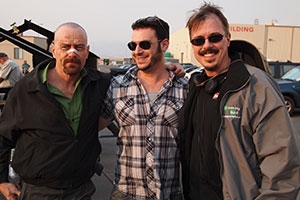 After earning his degree in 2005 from American University's School of Communication, Jason Gold (SOC/BA '05) moved to Los Angeles with little more than summer internship experience. He landed impressive first jobs as an assistant at Kaplan Stahler Gumer Braun Agency, DreamWorks SKG and as a literary coordinator at Artist International Management. With hard work, determination, and good networking he quickly progressed in the entertainment field.
Gold moved to New York in 2008 to advance his career with AMC Television as the production department coordinator. His resume reads like a list of TV's hottest series: Mad Men, Breaking Bad, The Walking Dead, The Killing, Better Call Saul, among others. Today, Gold serves as the production executive covering AMC's scripted series including multiple Emmy and Golden Globe winning TV shows. He will be returning to AU's campus next week for an engaging discussion with SOC Dean Jeff Rutenbeck about the renaissance of television. The event will take place Thursday, March 26 in the Media Innovation Lab, located inside the McKinley building from 6:30 p.m. to 8:30 p.m. RSVP now
Gold will share his experiences working in the entertainment field and then take questions from audience members. Light refreshments will be served at a reception beginning at 6:30 p.m. The event is great opportunity to gain a better understanding of television, production, and networking with others in the field.
"SOC laid the foundation for my career and really gave me the knowledge base I needed to succeed in entertainment," said Gold. "I can't say enough about how important it is to learn from professors with experience in the business." He credits SOC and specifically the Summer in LA program with giving him a head start on his career and helping him start a professional network that he is still building on.
To students who want to work in the entertainment industry, Jason advises, "Get out there and don't be afraid of anything. Create a network of peers to lean on. Stick to your goals, grow some thick skin and stay on the path." 
"I would have taken more business classes at AU. Other than the standard macro or micro economics, I never took a single business class. I learned everything about the business of my business just from working in it. I would have certainly had a leg up if I was more well versed in business basics."
"Most importantly, be persistent, but don't be annoying."
This event is sure to offer substantial material for those involved in the entertainment field and pique interest in production for those still unsure of which career path to follow. Gold has already built a remarkable foundation for a lasting legacy as an AU alumnus and in the production trade. Dedicated alumni like Gold who volunteer to come back to campus and share their experience provide an extraordinary service to the AU community.