Alumni
Journalism Alumnae Discuss Reinvention Amidst Ever-Changing Industry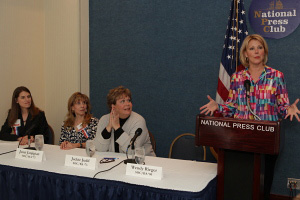 It's all about taking what you already have, analyzing it, and then reinventing or reimagining it to make it more powerful. This is what Wendy Rieger, SOC/BA '80, anchor for NBC's News4 at 5 told fellow alumni attending the recent "Reinventing Yourself in Journalism," luncheon panel at the National Press Club.  
Sponsored by the Office of Alumni Relations, the event kicked off a new luncheon series designed to engage alumni, parents, and friends who are interested in learning more about a variety of important topics of the day.  
The April 9 panel included Rieger; former ABC correspondent Jackie Judd, SOC/BA '73, now vice president and senior adviser for communications at the Kaiser Family Foundation; former television producer and MGM studios senior vice president of corporate communications Janet Janjigian, SOC/MA '73, now a media consultant and principal partner at We Get It, Consulting; and former communications director for Educational Options, Inc. Kate Heffley, SOC/MA '07, a senior consultant at Booz Allen Hamilton. They discussed how they have adapted to ever-changing trends in media and, by reinventing themselves to fit newly evolved roles, have risen to the top of their respective fields.  
For Rieger, adapting has meant becoming a "one-man band," on the green initiatives segment she does – shooting the video, reporting, and editing it all herself. "It's not that bad except when you're wearing high heels and carrying a tripod," she said.  
Judd said even though working at the Kaiser Family Foundation is a completely different operation than a news organization like ABC, the decline in traditional journalism has created a new niche in nonprofits. "Nonprofits have started their own news departments now, so I still feel like I'm in the newsroom."  
Her advice to anyone looking for a job: "Cast a wide net." 
"It's the skill set you've developed at AU and working in Washington that make you marketable," says Janjigian. She believes the advancement of technology has created more opportunities for journalists, not fewer. "Think outside the box," she suggested, referring to not only job opportunities but one's skills, too.  
The panelists agreed that a major challenge in today's journalism industry is maintaining quality content while staying abreast of today's rapidly changing technology. Rieger said it's particularly hard because the industry is still reinventing itself.  
"Because we're trying to figure out technology, we're missing stuff editorially," she said. Rieger welcomed the idea of bringing back the core components of journalism. "It's not about the flash, it's not about the technology, it's about can you write a story." 

No matter what people do, Heffley says there's still that mixture of strategy and fortuitous luck. "We will be crossed-trained," she said. "It's the nature of the business so take it on and have fun with it." 

The next alumni luncheon, Making a Difference in D.C. is scheduled for April 28 at the City Club of Washington at Columbia Square and will feature a panel of D.C. public servants discussing how AU has influenced their career choices and their daily work: Mike Panetta, SPA/BA '93, SPA/MA '94, the D.C. shadow representative since 2007, and a staunch supporter of Congressional representation for District residents; Phillip McHugh, SPA/BA'08, SPA/MS'09, a member of D.C. Police Chief Cathy Lanier's staff; and former Deputy Chief of Staff for the Chairman of the Council of District of Columbia, Lee Brian Reba.