Journalism
American Forum, SOC Faculty Take on Teens, Sex & Media
By Sylvia Carignan
November 4, 2009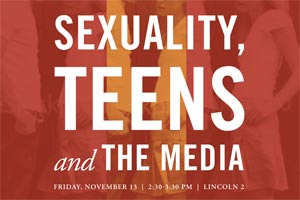 The American University School of Communication's mission to shape the next generation of journalists doesn't stop at the edge of campus. Its faculty and programming will have a key role at the 2009 JEA/NSPA Fall National High School Journalism Convention (#hsjdc).
SOC's American Forum gave young journalists an opportunity to sound off about sexuality and the media in an hour-long interactive program Friday, November 13.

The discussion was led by nationally-recognized sexuality educator Deborah Roffman, a high school journalist, and American University news media expert Jane Hall (moderator) with lively audience participation. The event was recorded and aired November 16th at 9 p.m. on WAMU 88.5, the leading public radio station for NPR news and information in the greater Washington D.C. area.
Students were encouraged to help shape the debate by pre-submitting questions and comments on the American Forum Facebook group, by tweeting using #amforum or by visiting the SOC Discover the World of Communication booth, number 331, at the convention.
Other SOC faculty and alumni at the convention led workshops, gave talks and spoke to students about the future of journalism.
Director of Writing Programs Amy Eisman was a featured speaker, and led a workshop, "The New Media Landscape (and What It Means to You)," introducing students to new tools like Twitter and the challenges new media poses to news organizations.

Veteran journalist Nick Clooney, SOC and Newseum Distinguished Journalist in Residence, gave the keynote address at the convention.
Professor Sarah Menke-Fish's role began months ago, working behind the scenes to make the convention happen. She also organized a booth at the convention with information about SOC's summer program for high school students, Discover the World of Communication, which she directs. The program hosts high school students from around the country and around the world during the summer to learn about journalism, film, photography, scriptwriting, and communication.
This past summer, Greg Smith, a DWC professor, worked with two groups of high school students, one on AU's D.C. campus and another in Berkeley, CA, to interview young people for a TV newscast on the topic of Sexuality and the Media, which will be addressed in the November 13 American Forum.
Caitlin Kizielewicz, SOC '09, is using her D.C. connections to help high school students from Murrysville, Pennsylvania get more out of their visit to the capital. They plan to visit the Newseum, one of SOC's strategic partners, and XM radio for student tours.
"This is a very important and meaningful event to me since I attended the same conference in Washington as a junior in high school. The event was part of the reason I came to AU," Kizielewicz says.