Journalism
Journalism Pros Come Back to School to Upgrade Digital Skills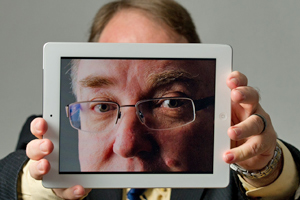 The School of Communication's weekend MA in Interactive Journalism draws professionals at different career stages. Often they are established journalists at top organizations, including Reuters, NPR, USA Today and Federal News Radio, where they may already be doing some multimedia work but want to build out their skill sets. Others are looking to build a digital resume to open up new opportunities.


BUILDING ON SUCCESS
When she joined the program, JoAnne Allen, MA '10, worked as a desk reporter for Reuters. After receiving her degree, she applied for and got a position as an assignment editor with the Reuters Media Desk. She is embedded at Yahoo! where she is an editorial "ambassador" representing Reuters.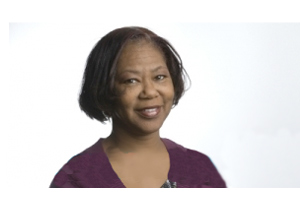 "The IJ program prepared me for the job because I came away from it with an understanding of how changes in technology have affected print and online publications. That was one of the qualifications the Media Desk sought in applicants for the job. The editor also wanted someone with an understanding of the content needs of major web sites," says Allen (left).
Changes in the industry inspire some veterans to join the program. "I'd been a journalist for about 20 years, the last 10 years in print," says Michael O'Connell, MA '12. "I was about to turn 50 and I asked myself what I wanted to do in five years. I still wanted to be a journalist, but looking five years down the road, I could see my vocation was changing dramatically."
O'Connell started using his new skills right away in his job at Virginia's Connection, but he soon moved on to a new job at Federal News Radio that he learned about through a classmate.

"Most of the technical skills that I use daily at Federal News Radio I learned through the Interactive Journalism program. The other skills that I use, such as news judgment, reporting, editing and interviewing, I was already proficient at when I came to the IJ program."
"Beyond the skills and the networking, what had the greatest impact on me was learning to think like a digital journalist. I have a completely different perspective on reporting and editing now," O'Connell adds.
Over his 30-year career, Barry Gordemer, MA '12, helped cover five presidents, two Gulf wars, September 11, and hurricane Katrina as an award-winning writer, producer and director for NPR's Morning Edition. He hopes to make a career shift to teaching, but never had any formal training in journalism himself. Gordemer says, "When you learn by doing you don't always understand the underpinnings, the fundamental principles of why you do what you do. One of my goals was to better understand why things are done not just how things are done."
PROS LEARNING FROM PEERS
The cohort style of the IJ program is designed, in part, to allow students to build a professional network while developing skills. These journalism veterans bring their experience and connections, and benefit from the cohort network, and are exposed to new ways of thinking and doing things.
"I came away from the IJ program feeling that I had a network of contacts, both from the faculty and my classmates," says O'Connell. "I learned about my current job through that network and work with two of my classmates. When I decided to change jobs, I sought the advice from a couple of my instructors and used them as references. I've also sought advice on some post-graduate projects that I'm putting together."
Gordemer (left) agrees. "Our group bonded and was a great source of support. … The best part was there was always an expert around when you needed one. For our photography class, we had a professional photographer in our group. For video editing we had a couple of experienced editors. Everyone was willing to share their expertise and was happy to offer tips or answer questions."
CHALLENGING COURSES
IJ director Amy Eisman keeps the program fresh, bolstering its faculty by reaching into the community for professionals doing cutting-edge work at their institutions. The variety of courses and experts ensure that everyone is challenged, and comes away with new skills and knowledge.
O'Connell was impressed by the roster of talent at the front of the classroom. "Many of the classes are either taught by or include guest speakers who are leaders in new media. Steve Buttry, who taught the business class, was especially good at exposing us to ways people were being innovative in journalism, coming up with new business models and approaches to starting businesses."
"The very first course, a Web design course, had the most impact. I hated it, initially. Coding made my head hurt," admits Allen. "I questioned why I had to learn to build a Web site when I really only wanted to publish content. After the course was over, I felt a tremendous sense of achievement -- I'd built a Web site! I had a new skill -- but more important, I had acquired an understanding of what Web pages were communicating and how to use the page building elements to help me communicate beyond just the use of words."
Gordemer says, "Amy Eisman and her Writing for Convergent Media class had the greatest impact on me." "Even though I am an experienced writer she found ways to challenge me. She brought joy and good humor to the classroom and reminded me just how rewarding and fun journalism can be. She is the model for the type of teacher I'd like to be."
"AU has helped me better understand the underlying principles of journalism and given me a greater appreciation for what I do every day."
ADVICE FOR THOSE CONSIDERING THE PROGRAM

JoAnne Allen: Have a career objective in mind at the outset and work toward meeting that goal while you're in the program.
Barry Gordemer: The toughest part was balancing homework with a full-time job. Learn how to budget your time wisely. … The program will help you appreciate what you've accomplished in your career and it will remind you why you got into journalism in the first place
Michael O'Connell: Be a part of the future. Your skills have value. Journalism is not dying, it's just changing. You can change too.