Journalism Students Focus on Veterans with "Stateside" Project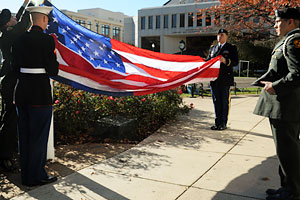 American University graduate journalism students and professors collaborated to create a website Stateside: Veterans Day. The website was conceived as a way to continue the conversation surrounding the challenges veterans face and to honor their service to the nation.
All reporting was done from Washington, D.C. for the Reporting on Public Affairs class taught by professors Amy Eisman and Jill Olmsted. The class includes students in both investigative and broadcast journalism concentrations.
Broadcast journalism students interviewed veterans at the Vietnam memorial through the Honor Flight Network – a non-profit organization created to fly veterans to Washington, DC to visit war memorials.
The special Veterans Day podcast, Veterans Remember Vietnam, was created and produced by the broadcast graduate journalism class of 2016 and Olmsted.
Stateside also features stories and photos of veterans compiled by investigative journalism students. Their stories highlight challenges many veterans face today such as treatment, homelessness, and disability.  
Many School of Communication students and faculty have used their skills over the past few years to help several veterans tell their own stories. View those stories.