International
SOC Grad Freelances From Cairo for Associated Press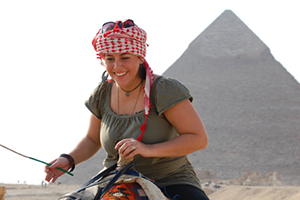 SOC graduate Danielle Desnoyers arrived in Cairo in September 2008 with no job and only the contacts she made through Prof. Gentile's Foreign Correspondence class.

But she was soon freelancing for the Associated Press and the Daily News Egypt, the International Herald Tribune's paper in Cairo. Proofreading and editing at some magazines came next, thanks to the connections she made through Cairo's tight-knit expatriot community.

In one of her recent pieces for The Associated Press, Desnoyers looks at spiritual seekers who are drawn to Egyptian sacred sites hoping for transformation. In addition to the story, Desnoyers also provided stunning photos of the The Great Pyramid of Giza. Read her article.