First Person
Ryan Gets Hands-on Experience at USA Today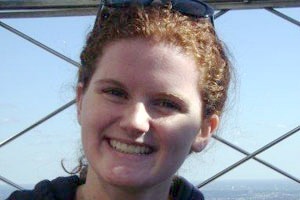 The Series: We reached out to American University School of Communication students and recent graduates who are spending this summer advancing their careers through a new job or internship, and asked how they got there, what they're learning, and what advice they have for others. We're sharing the responses in our summer series, "SOC Suits Up for Summer".
Julia Ryan, who is the Managing Editor for News at the student newspaper The Eagle, found her internship through former Eagle colleague and USA Today intern Charlie Szold, SOC/BA '11, who is now a USA Today Assistant online producer. Ryan says professors who spent a great deal of time talking about their experiences reporting in the "real world of journalism," have been most helpful at her internship.

Q: How did you find your internship?
A: I knew that a lot of other AU students had interned at USA Today before, so I applied through its website. Then I asked Charlie [Szold] if there was anything else I should do to get this internship, and he suggested I contact USA Today's intern coordinator Brent Jones. I sent Brent my resume, which he then forwarded to my editor Ray. Ray contacted me in March about an internship, while I was studying abroad in London.

Q: What skills that you learned at SOC do you use in your internship?
A: I've had professors in SOC classes who spent a great deal of time talking about their experiences reporting in the "real world of journalism," and I feel like those have been most helpful at my internship. They gave me a wide range of advice, like "Expect to start at a small reporting job and work your way up" and "Don't disregard the seemingly 'boring' or 'bad' jobs, because those could be a gateway to better jobs in the future".
Q: Describe your internship duties/"day in the life" at your internship.
A: My internship is primarily editing content for the Money section of USAToday.com. I post stories from the Associated Press on the website, write photo captions, edit stories and assemble photo galleries. Sometimes my editor will tell me what stories to expect later in the day, but most times I come in not knowing what stories I will be posting that day- but that's the nature of the news cycle.
Q: What is the most challenging aspect of your internship?
A: The most challenging aspect of my internship is, believe it or not, the commute. I have to be in by 8 a.m. every morning, which means I have to wake up at 6 a.m. every day, the earliest I've ever had to wake up for a job or internship. But since I'm pretty busy at my internship all the time, my day goes by fast.
Q: What is the most valuable aspect of your internship? 
A: The most valuable aspect of my internship is that I get hands-on experience working at a major newspaper, something I've never done before. I've worked closely with my editors all summer and I feel like I've learned a lot about how a daily newspaper operates.
Q: What made you trade of "vacation" for an internship?
A: "Vacation" was never an option for me. I'm a workaholic at heart, and when I'm not very busy, I'm very bored. I've set out to have an internship every summer since freshman year. I worked at Long Island Press in summer 2009. In summer 2010 I tried to get an internship in New York City, just an hour from where I live in Merrick. But I wasn't able to get an internship, even though I applied to over 20 news organizations. This summer, I did the same thing in DC, but with much better results. During the summer I'd rather work and stay busy doing what I love, journalism, than sit around doing nothing for three months.
Q: What are your plans post-internship?
A: I will be taking a break for two weeks after my USA Today internship ends, then I start school and my job as Managing Editor for News for The Eagle. I can't say for sure what I'll be doing in terms of looking for an internship or a job in the coming months, but I'll definitely be exploring my options.
Q: Any tips for others looking for an internship or job in your field?
A: My advice would be two things. 1) Make a list of every news organization you could see yourself working at, then apply to all of them for internships. The more you apply to, the better your chances of hearing back from one of them. 2) Keep in close contact with other people in your field, not just professors, but also your fellow journalism students. You never know when one of them might have a tip about an internship opening.