Communications
Bringing Wikipedia to the National Archives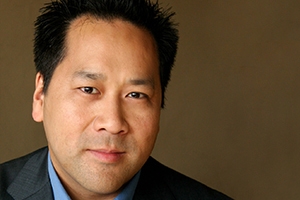 Wikipedia is often a large part of students' lives. Before researching an interview subject or finding out how to use Adobe Premier, students take to Wikipedia to get the facts.
But how many students - or other internet users - across the nation know how Wikipedia works or how to use it to its highest potential?
Not enough, thinks journalism professor Andrew Lih. To change that he is using his experience and expertise to create Wikipedia's first visitor and discovery center within the National Archives' Innovation Hub.

To say Lih is a Wikipedia fan is an understatement. Lih described the history of the website in his 2009 book The Wikipedia Revolution: How a bunch of nobodies created the world's greatest encyclopedia and developed and teaches the class Wikipedia & Public Knowledge.
Lih received a grant from the James S. and John L. Knight Foundation Knight Prototype Fund in February, giving him the opportunity to educate more people about the free and editable encyclopedia in an innovative and immersive way.

"The idea was, what if we had an exhibit or some kind of standing facility that was Monday through Friday, nine to five--something that they could go to on their own terms, where they could learn about Wikipedia on their own terms," Lih said.
The space is a new engagement strategy for Wikipedia.

"Edit-a-thons were a great way as kind of one-off events to introduce Wikipedia to museum professionals, cultural professionals...folks interested in providing knowledge for the public interests," Lih said.
These meetings in galleries, libraries or museums allowed people to tackle a specific topic on Wikipedia and dedicate their time to editing pages, adding photos and video or creating entirely new subjects. Unfortunately, these edit-a-thons are not effective in keeping people interested.
"If you look at the statistics, it's actually pretty dismal for edit-a-thons," Lih said. "The number of folks who go to an edit-a-thon and actually continue to be an active Wikipedia editor is sub one percent. It's not very good."
Lih is in the early stages of planning the space, but he's excited to have the opportunity to use the National Archives' Innovation Hub as a place where people can interact with in-depth visual presentations, projections or high technology screens, see real-time statistical updates and begin their own projects at an editing bay, he said. 
Lih hopes these social and work spaces will give museum visitors inspiration and access to the tools they need to become active Wikipedians.
Lih will give a talk, "How Wikipedia Affects Your Brand," at DC innovation hub 1776 on April 21 from 6:30-8:30 p.m.