Alumni
AU Network Proves to Be a Powerful Tool
By Michael Wargo
September 14, 2011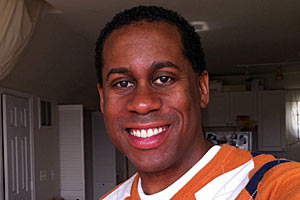 Lawrence Dortch, SOC/MA '11, developed professional connections with professors while in graduate school and then used this network to land a job with the Smithsonian Channel as a Web Producer.
At the Smithsonian Channel, Dortch creates short form video content for the website and mobile apps. He acts as a one-man production crew handling video, audio, and editing. As part of his new position, Dortch supports in-house productions by creating videos that can be used as either online promotional material or as value-added content.
"My experience at American University helped me, in so many different ways, get my current position," said Dortch.
Before joining the Weekend MA in Film and Video program, Dortch was a freelance still photographer, shooting assignments for The Source Magazine, Law Practice Magazine, Loud Records and Sony Music, as well as prep and professional sports for various clients. "Being a photographer is a great foundation for someone transitioning into film because many of the basics of still photography and motion pictures are the same, like exposure and composition," said Dortch. "The beautiful thing about moving from photography to video is that I am still behind the camera shooting but now my pictures move."
He credits several professors and classes for getting him where he is now. One casual conversation with Professor Russell Williams during a lunch break changed the way Dortch listened. "I started hearing more than just the subject of what I was filming but also everything around me," he said.
Likewise, Professor Bill Gentile's Backpack Documentary class and the methods he learned from the course played a big role in getting an interview and securing the job with the Smithsonian Channel, said Dortch.
"My new boss, Charles Poe, was looking for someone that could handle operating in the field as a self-contained production team and Bill Gentile taught me how to do that," he said. "Learning techniques to film any situation, or conduct formal and informal interviews was great, but to have Professor Gentile go out into the field with students during shoots, coach you during narration recording sessions, and guide you through the editing phase gives you a professional advantage that most people aren't ever lucky enough to be exposed to."
Finally, Dortch says that starting his new career with the Smithsonian Channel is due in large part to networking. He found out about the position from Professor Chris Palmer who sent out a message on the AU Film listserv.
Dortch says that his degree and final project show his competence, but that employers also want to know whether an applicant can be depended upon to do the job and whether they are easy to work with. "Networking with my former professors helped ensure that potential employers could have those questions answered by working professionals that know me."
"After my first interview when I was asked for references I was able to give the names of three SOC professors and an SOC graduate currently working in the field. I later learned that two of the professors already had professional relationships with people at the Smithsonian Channel, so for them to speak positively about me carried extra weight and no doubt helped me secure the position," said Dortch.
"I love American University and had a great time in grad school in SOC, and can't wait to get my first paycheck so I can start giving back to the University that gave me so much."