Journalism
Merriman Award Winner Ready to Launch U.S. Career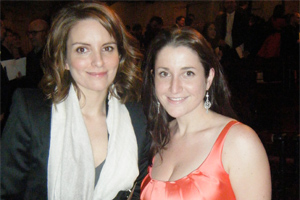 The newest recipient of the Merriman Award for excellence in broadcast writing knows firsthand how intimidating new media can be. Before coming to AU, Philippa Levenberg was a print reporter in Johannesburg, South Africa. "[I] didn't feel like I could compete in a multimedia world," Levenberg said.
She traveled over 8,000 miles to become a graduate student in Washington, D.C. "I saw and still see AU as a launching pad for a career in journalism in the United States, given the opportunities and contacts that the American University graduate experience can provide," Levenberg said.
Levenberg used her new experiences in Washington to obtain an internship at federal broadcasting service Voice of America, and a position as graduate assistant in AU's Investigative Reporting Workshop.
"I think the AU graduate journalism program does a good job of recognizing that schoolwork can be secondary to the experiences you have while doing and the contacts you make along the way. I am taking small steps now with the hopes that they'll amount to significant strides one day," Levenberg said.
Levenberg won the Merriman Award as a graduate student in the Broadcast Journalism program. She called the award "a reminder of the power and influence that television can have as a medium when it is it used in the right way." The award honors John Merriman, editor of the CBS Evening News with Walter Cronkite, who died in a plane crash in 1974.
"One can honor [his] legacy by helping to ensure that broadcast journalism doesn't lose its relevance, that it embraces and adapts to a multimedia world, and seizes the unique window of opportunity that resides in the current media landscape," Levenberg said.
Writers Guild of America, East president Michael Winship presented the award to Levenberg in front of an all-star crowd of professional writers for the screen, television, and news writing at the Hudson Theatre at the Millennium Broadway Hotel in New York City. 

Winship called the prospects for Levenberg's career, "incredibly bright."  
In her remarks at the awards ceremony, Levenberg thanked the Guild for the honor, as well as the American University School of Communication, Journalism Division Director Jill Olmsted, her mentor Bill Torrey at the Voice of America, her colleagues, friends and family for their support. "I hope to make everyone really proud. My work starts now," Levenberg said.

Olmsted said Levenberg "exemplifies a commitment to excellence in writing and journalism values and I expect she will have a long and inspired career."
In New York, the awards event was hosted by Susie Essman of Curb Your Enthusiasm, while a simultaneous ceremony took place in Los Angeles. In that event, director and producer Barry Levinson, '67, received the 2010 Laurel Award for Screen, for his lifetime achievement in outstanding motion picture writing.
While the Writers Guild members are largely the behind-the-scenes unknown faces, the event also featured some in front-of-the-camera star power. 
In New York, the event included performer and writer Tina Fey, who won a comedy writing award for her hit show 30 Rock; writer and performer Seth Meyers of Saturday Night Live; Law and Order detective Jeremy Sisto; Mad Men actress Elizabeth Moss; CBS Early Show anchor Harry Smith, CBS Sunday Morning satirist Mo Rocca and commentator Nancy Giles.