Communications
Five Facts about the BA in Public Relations & Strategic Communication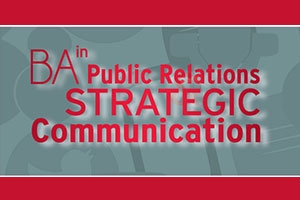 The School of Communication is pleased to announce the BA in Public Communication has been renamed the BA in Public Relations & Strategic Communication. 
Public Communication division director Pallavi Kumar sees a huge advantage for students with this new degree option. "The newly revised degree offering will allow students the opportunity to further explore the major, with more flexibility for experiential learning and the ability to gain expertise in a specific concentration," said Kumar.

5 THINGS YOU NEED TO KNOW ABOUT THE REVISED DEGREE

WHAT: The new BA is 48 credit hours compared with 40 credit hours for the BA in Public Communication. This allows students to take more communication electives and create concentrations around areas of interest.


How does it work?
Students may choose to unofficially concentrate their studies in one of six areas, ideally to develop an area of expertise.
Concentrations include: Political Communication; Health, Science & Environmental Communication; Corporate Communication; Social Change & Advocacy Communication; Lifestyle &Culture Communication and Digital Strategies. Full list of concentrations

These concentrations will not be listed on diplomas, transcripts or degree audits, but are a way for students to further brand themselves via LinkedIn and through online portfolios.


Why did SOC decide to make changes to this degree?
The newly revised BA in Public Relations & Strategic Communication degree allows students to take more electives, receive an additional three credits for internships (up to six total) and gives students a chance to concentrate in particular areas of interest.


When do I have to decide?
It is preferable students make the decision prior to the start of spring registration (11/3/14). SOC's academic advisors will work with students to complete a form confirming their choice.


Frequently Asked Questions
Answers to frequently asked questions can be found here. Should you have any additional questions, please schedule an appointment with an SOC academic advisor.