On Campus
New Faculty Bring Expertise to SOC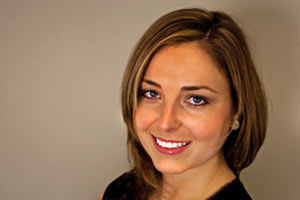 As the 2012 fall semester gets underway, SOC welcomes four new term faculty, including a Fulbright fellow and a White House spokesperson for budget issues, each of whom brings professional experience and expertise to the classroom.
Alice Arnold joins the Film & Media Arts division from faculty appointments at Parsons the New School for Design and CUNY. She will teach Understanding Media, Visual Literacy, and Digital Imaging. Arnold earned a Fulbright fellowship in filmmaking in Hong Kong, one of many scholarships and fellowships she's received during her career as a documentary filmmaker. She holds a BA in History from UCLA, and she completed her MFA with Distinction in Integrated Media Arts at Hunter College.
The journalism division welcomes Jayne Cubbage, who brings a wealth of experience SOC, previously serving as Multimedia Producer for Bloomberg News, as the Producer and Assistant Director of the National Association of Black Journalists Convention, and as a freelance writer, producer, and public relations specialist. Jayne has held teaching appointments at Catholic University of America, the George Washington University, James Madison University, Howard University, and Lincoln University. She completed her PhD with Distinction in Mass Communication & Media Studies at Howard University.
The Public Communication division will welcome back alumna Corinne Hoare, SOC/MA '12, who will bring a unique depth of experience to her Understanding Media, Public Relations, and Public Relations Writing classes this fall. Hoare comes to SOC after serving as Strategic Outreach Director at the nonprofit organization Public Notice. She was also the youngest-ever Director of Communications at the Office of Management and Budget (OMB), where she served as the official White House spokesperson for budget issues. Her prior experience in the federal government includes service as Deputy Press Secretary for USDA and Press Secretary for a Colorado Congressman.
Joining Hoare in Public Communication is Joseph Erba. Erba joins the faculty from the University of North Carolina at Chapel Hill, where he is completing his Ph.D. in strategic communication. His research interests focus on public relations in higher education, multicultural communication and racial/ethnic media representations. He has taught communication classes at the University of Corsica, and media ethics and strategic communication classes at the University of North Carolina. Prior to his doctoral studies, Erba practiced public relations in the Midwest, working for an integrated marketing communications agency with education-related clients. For his first semester at SOC, Erba will teach Understanding Media, Communication and Society, and Communication Theory.