Journalism
D.C. Honors Ethnic Media, Community Storytellers
By Cristina Fernandez-Pereda
January 30, 2009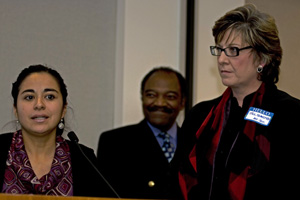 WASHINGTON -- More than 100 people gathered for the first Washington, D.C., Ethnic Media Awards, organized by New America Media and American University School of Communication to honor excellence in reporting.

"I'm really happy. I think this award is not for me but for the people we work for, for the communities," said Luisa Fernanda Montero, winner in the Best Broadcast Category for her story on how native people honor their ancestors "Pow Wow – Somos un Pueblo Unido." Montero, a reporter for the Hispanic Communications Network, emphasized the significance of honoring the work of journalists who show a community's virtues and needs.
Other ethnic media awards winners agreed with Montero that the awards were not just for the reporters but for the communities they are covering. Mark Lloyd, presenter and Vice President for Strategic Initiatives of the Leadership Conference on Civil Rights, noted in his speech the humility of the reporters who didn't take credit for the award and gave it all to the communities they work for.
"I think it's great that we are being awarded as journalists for writing about our communities and also for doing it with passion and emotion," said Muslim Link reporter Asma Hanif, who earned an honorable mention under the Best Commentary/Editorial Writing Category for her editorial "Domestic Violence."
Dean of the American University School of Communication Larry Kirkman noted the first ethnic media awards in the Washington, D.C. metro area is taking place in the same year as the 60th anniversary of the Declaration of Human Rights. He underscored the meaning of these awards and ethnic media. Article 19 recognizes not only the right to freedom of opinion and expression, Kirkman said, but also "the right to receive and impart information and ideas through any media and regardless of frontiers."
Alfredo Duarte-Pereira, photographer for El Tiempo Latino, won the photojournalism award for his portrait of a 15-year-old autistic boy and his mother's struggle to learn how to teach him through music. "This is a very important award for me, both as a photographer and as an immigrant. I came to this country not too long ago and now I'm being awarded for doing what I really like," he said. 
For Nisa Muhammad, Final Call reporter and Best Local News Coverage winner for her story "Black Neighborhoods on Lockdown" about police checkpoints in some areas of Washington, D.C., the event was not just about the awards.
"I'm totally surprised and also very happy for the award. But this kind of event has allowed us to connect with other communities we wouldn't have reached any other way, we would have remained unconnected," Muhammad said.
"It was so great to be able to reach out to all these journalists I wouldn't have found any other way. They are the ones who can really tell you about their communities," said Tara Libert, deputy director of Free Minds Book Club and Writing Workshop.
 
Event attendees included Pepco, regional electric service provider that sponsored the cash awards for winners, and representatives of government agencies such as the 2010 U.S. Census, the Centers for Disease Control and Prevention and U.S. Navy. "The presence of members of government agencies tells us how important this night has been," said New America Media Executive Director Sandy Close.

New America Media received more than 80 submissions from newspapers, TV stations, radio news programs, and web magazines from Washington, D.C., Maryland and Virginia. The outlets serve Vietnamese, Ethiopian, Muslim, Jewish, African-American, Korean, and Spanish-language communities in the region.
"The reality is that the ethnic media plays a vital role in our society by bringing news and information to demographics that want more than what is delivered by the major media outlets," said Alex Moe, NAM's Washington, D.C. director. "NAM and American University School of Communication are honoring the tremendous contribution, often made on bare-bones budgets, the ethnic media offers."
The Winners:

Best Local News Coverage
Nisa Muhammad, Final Call, "Black Neighborhoods on Lockdown"
Honorable Mention: Barbara Pash, Baltimore Jewish Times, "Star Crossed"

Best Immigration Coverage
Farkhunda Ali, Muslim Link, "Virginia Couple Reunited with Son"
HM: Milagros Melendez-Vela, El Tiempo Latino, "Quiero Estar con Mi Mama"
HM: Albert Hong, Korea Daily, "Please Help Us: Illegal Immigrants Family"

Best Investigative/ In-Depth Coverage
James Wright, Washington Afro,  "Black Women in Criminal Justice System"
HM: Peter Dao, Pho Nho Newspaper, "Students in Hanoi and Saigon Demonstrate Against China"
HM: Farkhunda Ali, Muslim Link, "Local Palestinians Remember Their Catastrophe"

Special Award for Best Media Supplement
The Staff of the Washington Informer, "Nelson Mandela Supplement"

Best Arts, Sports, and Entertainment
Winyan Soo Hoo, Asian Fortune, "Kelly Tsai: A 'Yellowgurl' Poet"
HM: Neil Rubin, Baltimore Jewish Times, "Now…That's Funny"
HM: Dereje Desta, Zethiopia, "Emerging Ethiopian Rock Star, Kenna!"

Best Commentary/Editorial Writing
Jose de la Isla, Hispanic Link, "Social Intolerance on the Rise"
HM: Asma Hanif, Muslim Link, "Domestic Violence"

Best Photojournalism
Alfredo Duarte-Pereira, El Tiempo Latino, "El Mundo Según Zamir"

Best Broadcast Story
Luisa Fernanda Montero, Hispanic Communications Network, "Pow Wow – Somos un Pueblo Unido"
HM: Marcelo Sanchez, Telemundo, "Down Syndrome: Buddy Walk"