Communications
New Social Impact Research Spotlights the Power of Comedy to Engage Audiences on
Global Poverty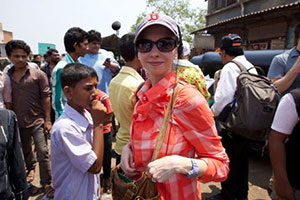 The latest project from American University School of Communication Executive in Residence Caty Borum Chattoo takes a deep look at the social impact of her popular Stand Up Planet TV documentary series and transmedia project, which uses the power of comedy to make serious issues of global poverty, including HIV/AIDS, more accessible to new audiences.
The evaluation research directed by Borum Chattoo found that comedy may be a powerful and untapped storytelling genre to raise awareness, change attitudes and intended actions in global poverty – particularly for new audiences (young people) and an audience segment that was apathetic to the issue of global poverty. The results are profound given the scarcity of research and insight about the value of leveraging comedy for global development storytelling. The report, "Entertainment, Storytelling & Social Change in Global Poverty" was released this week.
"It's so exciting to see Caty's innovative work, which exemplifies SOC's longstanding commitment to engagement design and transformational storytelling for social good and public purpose, paired with rigorous impact evaluation," said School of Communication Dean Jeff Rutenbeck.
Borum Chattoo, who works at the intersection of social-change communication strategy, documentary storytelling and research, was executive producer and producer of Stand Up Planet, which was funded by the Bill & Melinda Gates Foundation in November 2012. The project was designed using an Entertainment-Education strategy, a proven approach that intersects academic and professional production work to create storytelling for social change. In August 2014, the Gates Foundation funded American University, with Borum Chattoo as principal investigator, to complete the evaluation project to examine the power of comedy to engage and impact audiences on global poverty.
"For me, as a producer, strategist and researcher, starting to understand why and how a particular storytelling format might work to engage audiences on tough issues is valuable on its own, but particularly valuable when it's translated for future storytelling work. The intent of this research was not just to validate our approach on Stand Up Planet, but really to encourage other storytellers and strategists to think along these lines," said Borum Chattoo. "On the many issues within global poverty in particular, building on this approach and these insights can help us develop new effective communication and storytelling approaches – and ultimately, to contribute to needed social change."
Stand Up Planet
At the center of project Stand Up Planet is a U.S.-based host—Hasan Minhaj, a stand-up comic on a quest to find some of the best humor coming from corners of the developing world. Along the way, Hasan follows the jokes and personal experiences of the funniest international comics deep into the hard truths and the promise for change in some of the toughest global poverty issues of our time. Hasan Minhaj is now a correspondent on The Daily Show with Jon Stewart.
The documentary series aired in 2014 across four cable TV networks in the United States and India, including Participant Media's Pivot, KCET in Los Angeles, KCETLink nationwide, and NDTV in India. Via broadcast premiere and repeated airings, Stand Up Planet had a combined reach of more than 4 million viewers in the U.S.
The project was produced for the U.S. broadcast and transmedia company, KCETLink, by Borum Chattoo and San-Francisco-based Kontent Films. (See the full list of project credits at http://www.standupplanet.org/mission-team/.) The project is now streaming online at http://www.standupplanet.org/watch/.
Assessing Impact
The purpose of the impact evaluation research was to understand how audiences are engaged, motivated and changed – in terms of their knowledge, attitudes and behaviors about global health and poverty – as a result of watching the hour-long comedic travelogue documentary TV program. Additionally, via a quasi-experimental design, Borum Chattoo and her colleagues aimed to discover how perceptions of global poverty and health may be different for viewers who watch entertaining, light-hearted storytelling that balances facts with comedy (Stand Up Planet), compared with a long-form explanatory storytelling format on the same general topics.
Key takeaways:
Stand Up Planet – comedy, entertainment, not didactic – is effective in encouraging the audience to care more about global health & poverty.
For this topic, with two different narrative approaches, "caring more" may be more valuable than "learning more" in changing attitudes and intended actions around global poverty.
Regardless of whether viewers learned more or not, comedy is effective in generating awareness, concern, empathy and intended action on global poverty.
Compared with explanatory storytelling, comedy-focused entertainment storytelling is key in engaging apathetic viewers who say they are not concerned with global poverty – and not just preaching to supporters who already care. This may be particularly important for producers in global development storytelling – both in NGOs and entertainment – given the need to reach new audiences who are not already predisposed to pay attention to stories about global poverty.
Regardless of the emotion experienced while watching, a strong level of "involvement" in a story connects with the intent to take social action.
At the Center for Media & Social Impact, Borum Chattoo is Principal Investigator and Creative Director, leading and incubating projects and reports that examine the impact of documentaries and other media storytelling for social change (see, for example, a recent white paper, "Assessing the Social Impact of Issues-Focused Documentaries: Research Methods & Future Considerations," and "Breaking Down the Impact of 'Blackfish'." She also works closely with Participant Media, the social-impact entertainment company behind films such as Food, Inc., An Inconvenient Truth and Lincoln, as a senior advisor/strategist on public affairs strategy and impact research in entertainment-related social action campaigns.
Related to this work, Borum Chattoo has been invited to speak in April at the prestigious Skoll World Forum in Oxford, England, on a panel titled "What's So Funny? The Role of Comedy in Social Change." The Skoll World Forum brings together social entrepreneurs and change-makers from around the world, and past contributors include Archbishop Desmond Tutu, U.S. President Jimmy Carter, The Honourable Mary Robinson, Former United Nations Secretary-General Kofi Annan, Nobel Laureates Al Gore, Muhammad Yunus, Malala Yousafzai and Dr. Paul Farmer.
On February 20, Borum Chattoo will be the keynote speaker at the 2015 Media That Matters conference, speaking about attitude and behavior change through entertainment and documentary storytelling.