Achievements
New Book from Communication Faculty Members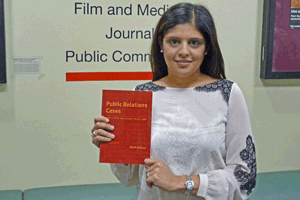 Three American University School of Communication faculty members have produced a new edition of Public Relations Cases, a textbook popular on more than 100 college campuses.
The new edition is arriving in bookstores for the spring 2012 semester. SOC professors Darrell Hayes, Jerry Hendrix and Pallavi Kumar spent the past year developing 31 new case studies for the edition, revising each chapter and adding a new chapter on social media in light of the increased influence of digital strategies for campaigns. Many of the cases in other chapters also show how social media has impacted public relations in the last few years. Most of the cases were winners of the Public Relations Society of America's prestigious Silver Anvil Award, and therefore constitute some of the best examples of public relations practices available.
Professor Leonard Steinhorn, Public Communication division director says there's a reason why Public Relations Cases is adopted at colleges and universities all over the country. "Professors Hayes, Hendrix, and Kumar pull together the very best cases that illuminate the strategic thinking so central to our field."
Professor Emeritus Hendrix started the case study textbook series in 1988 and popularized the ROPE Model of strategic communications. The book and supplemental instructor manual show students how to analyze the strengths and weaknesses of successful cases, and then create ways to make them even better. From "Doritos Crashes the Super Bowl" to "Lifeline Ohio's Organ Donor Awareness Campaign," the book features national and local campaigns that range in scale from complex crisis management issues to purely promotional creative campaigns.
Kumar says it was an honor to collaborate with both Professors Hendrix and Hayes.  "This new edition has diverse cases that will be valuable to students as they learn how to strategically assess the strengths and weaknesses of different public relations campaigns," she said. "I am thrilled to be able to use the book this semester for my PR Case Studies class, and look forward to hearing students' perspectives on the different cases in the book."