Achievements
AU PRSSA to Co-host National Conference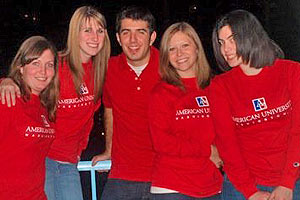 American University's chapter of the Public Relations Student Society of America will join with Howard University and University of Maryland to host the 2010 PRSSA National Conference this October in Washington, D.C.  

Students Jessica Noonan, Conference Co-Director, and Ashley Wolos, Conference Communication Director, have been meeting with the other five members of the National Conference Committee since May of 2009, when the three schools composed a bid.  The team presented their bid to the PRSSA National Committee in November at the San Diego National Conference.

"The combined resources, relationships and academic prestige of the three schools all closely connected in the D.C. area are impressive," says AU PRSSA President Raymond Hauserman. "Hosting this is an honor for our chapter and it will be an amazing opportunity for our members as well as other students from around the country to experience DC."

The conference, The Capital Connection: People, Press and Politics, will offer amazing opportunities for professional development. As the title suggests, the schools will leverage their connections to D.C. institutions and insiders to provide a memorable experience for attendees.

"Having seven committee members and faculty advisers, including Gemma Puglisi, has expanded our ability to get heavy hitters as speakers," said Jessica Noonan.

AU's PRSSA is calling on volunteers within the chapter to launch the committee's ideas and build AU's involvement.  The conference will take place October 15th-19th, 2010 at the Washington Marriott Wardman Park hotel.  Registration is $295 for members, $300 for affiliates and $330 for nonmembers.