First Person
Kimball Says AP Experience Broadened His Horizons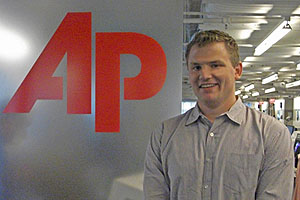 The Series: We reached out to American University School of Communication students and recent graduates who are spending this summer advancing their careers through a new job or internship, and asked how they got there, what they're learning, and what advice they have for others. We're sharing the responses in our summer series, "SOC Suits Up for Summer".


Peter Kimball, who is pursuing his MFA, worked for the Associated Press this summer in a paid position with a team that is transitioning AP's video production from standard to high definition. Kimball found the opportunity through SOC's Dean's Internship program, which provides internship and employment opportunities with SOC's key partners. A very different experience from his recent stint with the Daily Show, he says the position broadened his horizons.
Q: Describe your duties/"day in the life" at your job.
A: The AP is undertaking a massive upgrade and expansion of its video production, including an upgrade from standard definition to high definition. This upgrade will involve purchasing new cameras and Master Control Room equipment and developing a new workflow for shooting, editing, and producing HD video. My job was to document the current work practices of television journalists at the AP, identify any issues or problems that need to be corrected, and then propose new workflows that will fit the requirements of HD video.
Q: How did you prepare for this job?
A: I did a lot of reading and research into AP practices and into broadcast news gathering in general. I also researched cameras, servers, editing software, and other technical elements of the process. I supplemented this research with interviews and discussions with dozens of AP employees including cameramen, producers, content managers, reporters, engineers, and executives. These conversations were invaluable – both in terms of fulfilling my job and in learning about all the inner workings of the AP.
I also participated in meetings between representatives of the AP's technology department and its editorial department. Many of the journalists in the editorial department don't really understand the technology of video production, but they need everything to work in order to get their stories done by deadline. Engineers and technicians in the technology department know all about how the computers and cameras work, but they don't have a good sense for how journalists actually work and what they need. My job was, in a sense, to work as a liaison between the journalists and the engineers and to understand both the needs of the editorial side and the technical limitations of the technology side.
Q: What skills that you learned at SOC do you use at AP?
A: My experiences at American prepared me well for this position at the AP. Classes like Film & Video Production I and II provided me with essential knowledge about cameras, editing, and video production.
This has been a wonderful experience for me. I have been able to work for an internationally respected and renowned company and have been able to assist in the providing of accurate, nonpartisan news to the world. I also have been able to learn all about an area of video production that I had not considered before.
Q: What is the most valuable aspect of the job?
A: Broadcast news is a fascinating industry and I feel like I have had my horizons broadened by my experiences here. Also, the people I have worked with have been helpful, friendly, and encouraging. They have given me worthwhile and interesting tasks to work on and they have treated me as a full, valued member of the team.
Dean's Council member Lorraine Cichowski, MA/SOC '76, Senior Vice President and Chief Information Officer at AP, made the position possible.