Alumni
Director Najjar to Screen "Eyes of a Thief" at AU
American University (AU) alumna Najwa Najjar (SOC/MA '91), a Palestinian-Jordanian filmmaker, has an amazing track record that spans fiction and documentary.  Propelled by her passion about both the art of filmmaking and the stories she tells, her films have won many international awards and garnered critical acclaim. Her award-winning debut film "Pomegranates and Myrrh" screened at more than 80 festivals. "Eyes of a Thief" (2014), a thriller, was Palestine's nomination to the Best Foreign film category at the 2015 Academy Awards.  SOC recently spoke to Najjar about her inspiration, her upcoming project, "Son of a Very Important Man," and how her time at AU School of Communication impacted her as a filmmaker. Below is an excerpt. Full interview

SOC: How do you decide which stories you want to tell through your films?
Najwa Najjar:  As a woman filmmaker living in a no man's land in Palestine between Ramallah and East Jerusalem – officially Jerusalem but inside the 450km Wall area – and desperate for the end of injustice, and seeing the situation worsening daily with no hope in sight, I started questioning what options are available when blackness surrounds a people, and the air thickens to a point where the mere act of breathing becomes difficult.
I searched for options, read books, watched movies and spoke to people who had faced similar circumstances. I tried to see beyond the land marred with daily violence, walls, electrical fences, checkpoints and land confiscations.
I understood how broken dreams and aspirations can push society to further isolate itself, especially with the world community turning its back on the injustice on the ground. I found myself sinking into despair, uncertainty and rage.  I didn't realize until then how much film and telling stories saved me from drowning in anguish and gave me hope.
I always look(ed) for stories that uncovers the devastation and fruitlessness of violence through one story of the many human stories often overlooked and/or forgotten in any war torn conflicted area.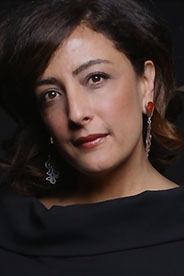 SOC: How is your current project, "Son of a Very Important Man," different from the other features you have made? 
NN: Most of my films, both documentaries and fiction, try to work against the stereotypical image presented of an Arab, Palestinian and Muslim in the mainstream world media -  the image being one immediately equated with "terrorist."  Respectively, I almost always have Christians in my films as there is another stereotype to combat in both the West and the East about the presence of Christians in the Arab World, who are part and parcel of the communities which have existed in the region since the birth of Christ in Bethlehem, Palestine.


I made "A Boy Called Mohammed" (2002) right after 9/11, about a Palestinian camp boy who sells coffee at the Israeli checkpoint of Qalandia.  At the time to be called Mohammed or Osama was the worst name you could have in the U.S.  It was important for me to show, in this documentary, other "Mohammeds."
Living under fire forced me to probe further on how justice, dignity, democracy and self determination, which has been the call of Palestinians for decades, can be achieved when hope of an real peace based on the above tenets was being extinguished.
I worked with different genres to answer the questions in my mind and that surround me.  My first fiction "Pomegranates and Myrrh" (2009) was a romantic drama, "Eyes of a Thief" (2014) a thriller which was Palestine's nomination to the Best Foreign film category at the 2015 Oscars, and now a road movie, "Son of a Very Important Man".
For the latter, now in pre-production, I felt the need to do something different.  I thought a love story about divorce can take me to a place where I can explore another aspect of human relationships.  I focused on the couple on a road trip and drew their emotional journey.  However, I couldn't completely disassociate myself from the reality around them as the couple drive throughout the whole of the country.  In the back of my mind was the question, "How much did the land around them destroy (or not) their relationship?" 
SOC: Are there any AU School of Communication faculty members or classes that continue to influence the way you work?
NN: Both (Film and Media Arts Division Director) John Douglass and Glenn Harden have read my scripts.  For my first fictional film "Pomegranates and Myrrh" - they were my first readers.  I remember waiting for their comments, which after grad school and in the "real" world are not only helpful, but needed.  The world of cinema is not an easy place to break into, especially for us living in extremely conflicted places where film is not a priority given issues of destruction and devastation, and their consequences.  But I clearly remember the rewards when we opened the film at the Kennedy Center - and having John in the audience (Glenn was out of town).  That was a treat!
SOC: Do you have any advice for current film students?
NN: No matter how many doors are closed to you, find another door, if not a window or another.  Persistence and loving the journey will open doors and windows. Take a deep breath and jump - you will come out at the other end.