First Person
Internship Lands Student in Center of Hollywood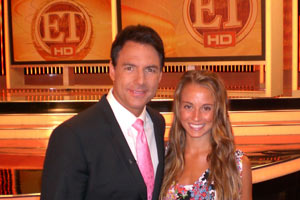 The Series: We reached out to American University School of Communication students and recent graduates who are spending this summer advancing their careers through a new job or internship, and asked how they got there, what they're learning, and what advice they have for others. We're sharing the responses in our summer series, "SOC Suits Up for Summer".

Rachel Demita, who will graduate from SOC in December, found her internship at Entertainment Tonight shadowing ET correspondent Mark Steines through a connection at another internship at CBS WUSA9. Demita says Steines is an amazing teacher and mentor who wants to help her to be successful in her career after college. She says she's made many new connections in LA that will surely help her find a job when she graduates.

Q: How did you find your internship?
A: I worked at CBS WUSA9 Morning show in DC. My boss was morning anchor Angie Goff. She was a former assistant of Entertainment Tonight host, Mark Steines. I made such a lasting impression at WUSA9 that Angie reached out to Mark and asked if he had any positions open at the station. Mark asked for my resume and samples, and hired me as his summer intern.
Q: What skills that you learned at SOC do you use in your internship?
A: I use the research and writing skills in my internship everyday.
Q: Describe your internship duties/"day in the life" at your internship.
A: I spend my Mondays and Wednesdays (8:30 a.m. - 4 p.m.) with host Mark Steines, and my Tuesdays and Thursdays (7 a.m. - 4 p.m.) with Senior Producer Bonnie Tiegel. Mark is acting as my mentor for this internship. I follow him through production day - from hair and makeup, to the morning producers meeting, to set, to voice-over booth. I will also do research for upcoming interviews or stories that are going to be on the show. The show is normally finished taping by 11:30 a.m. and sent to all the CBS stations across the country. At noon, Mark and I eat lunch and watch the show. Because the show does not air publicly until later in the evening, I cannot share it's content with my friends who do not work at the station. After 1:00pm, Mark coaches me on my broadcast reads. We will take some of the shows scripts and I practice as if I am reading from a teleprompter. Mark also discusses my career goals with me and helps me plan ways that I can grow as a reporter and actor. On Tuesdays and Thursdays, I work in the newsroom with a senior producer. On these days I do a lot of research for upcoming stories. I also write interview questions for our on-air talent. If a celebrity comes in studio for an interview, I am in charge of guiding them to the studio where we are filming and making sure that they have everything they need. During the interview, I take notes for the producer and type up a shoot report afterward. In the evening, I often go on field shoots with one of the reporters. Some of my favorite shoots so far have included 'Maxim Hot 100' red carpet, Hawthorne set visit and interview with Jada Pinkett Smith and Marc Anthony, and the 'Larry Crowne' premiere red carpet and interview with Tom Hanks and Julia Roberts.
Q: What is the most challenging aspect of your internship?
A: One of the most challenging aspects of my job is the fact that we produce a new show everyday, and we are always crunched for time. We are on a deadline to finish the show by noon. We never know when news will break or which new story will headline our show each day. With this job, you have to be really flexible. There are days that I have to come in at 6:30 a.m. for a producers meeting and there are some days that I do not leave the studio until 5 p.m. Other days I may have a shoot later on in the evening. Everyone who works here stays busy every day. There is always something to do or ways that we can improve the show.
Q: What is the most valuable aspect of your internship? 
A: The most valuable aspect is the interactions and time that I spend with Mark Steines everyday. He is an amazing teacher and mentor and really wants me to be successful in my career after college. I have made many new connections here that will surely help me find a job when I graduate. 
Q: What made you trade of "vacation" for an internship?
A: Living in Hollywood is like a vacation for me. The weather is fantastic here, and there is always something to do - beach, city, nightclubs, sightseeing. I have met many friends here, so when I am not working I am enjoying life in California.
Q: What are your plans post-internship?
A: I am returning to DC in August to finish school. I am graduating in December 2011. Directly after graduation, I am moving back to Los Angeles permanently for my career. I am signing with a modeling and acting agent this summer, so when I return to the west coast in December, I will likely have some work. I will likely visit LA during the months that I am in DC for school. While in DC, I plan to continue my modeling career and take acting classes on the side and hopefully audition for one of the AU graduate student films. My ultimate career goals include continuing modeling while I'm young and hopefully work as a television host/actor.
Q: Any tips for others looking for an internship or job in your field?
A: I would recommend that all college students do work outside of their school. You need to get real-world work experience while you are still in school so that you are better prepared to find a job after graduation. Don't be scared. Take chances and throw yourself into real-world situations. You have nothing to lose when you are still in school, and people are more willing to help a 'student' than someone 'unemployed'.
Q: Any stories you'd like to share?
A: One of the most fulfilling moments at work was the day that I went to the set of Hawthorne with 'The Insider' host, Kevin Frasier. Kevin was interviewing Jada Pinkett Smith and Marc Anthony. I did research on the two actors (previous work, relationships, family life, fun facts, etc) and came up with interview questions. It was such a great feeling seeing my interview questions make it on the show. Of the 30 minute interview, only about 5 minutes of the interview made it to television; and in those 5 minutes, about 3 of my interview questions made it. It's an awesome feeling to know that I have a direct impact on the production of the #1 entertainment news program in the world.