Television & Film
Digital Media Native Joins New Program
By Rosemary D'Amour
February 27, 2012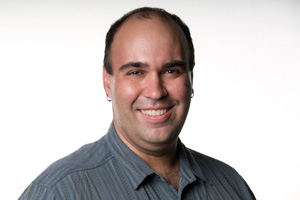 Beginning in the fall, Richard Harrington will be teaching "Video for Social Media", a course that he says is right up his alley.
Harrington has been a digital media native since the early 1990s. He wrote the book—and produced the webcast—on its usage, particularly online video.  He'll be teaching the course online for American University School of Communication as part of its new Digital Media Certificate program.
"For many people, they don't understand what social means—they associate it with the almost trivial updates you see every day," Harrington said. "But to me, social is media created for the community, by the community."

And this idea is what drives his course, Harrington said, combining a variety of goals—such as understanding the history of media production and the storytelling process.

"We live at a point of technological advancement where everything's been democratized," Harrington said. "And now, we can go from idea to delivery in less than an hour, and have that go around the world—that completely changes the game."

To work in this reality, professionals need a new and adaptable set of skills, which the Digital Media Certificate Program emphasizes through its practicum of hands-on coursework, said the program's director, SOC Professor Brigid Maher.

"This program was designed around the need for professionals to gain additional online and mobile skills," said Maher. "Everything moves so quickly, this program has to be very nimble. It does hit a direct need that is out there in the community. He was at the forefront of this technology at the beginning. He's a natural fit for the program."

But with all of his experience with tech tutorials, Harrington sees in this course another opportunity: to help students become better communicators through understanding a rapidly changing environment.

"I get to talk about the how all the time," Harrington said. "So to get to talk about the why is really exciting for me."

Understanding the intricacies of this process, Harrington said, would enable the students in his course to add value to their work as professionals.

"We're moving to a society that's primarily interested in visual literacy," Harrington said. "Video has the ability to combine words, images, sounds—and when it's used effectively, it can be the most powerful medium."