On Campus
SOC Faculty Thanksgiving Recipes
By Adell Crowe
November 18, 2010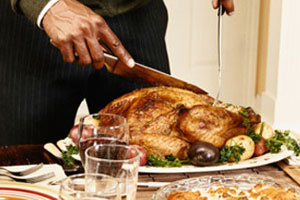 The diversity of SOC's faculty is reflected in their Thanksgiving Day feasts.
For Prof. Sarah Menke-Fish, who teaches Intro to TV Production and Visual Literacy, serving her German grandmother's Fuedens is a tradition that's as important as the turkey to her family.
For Public Communication's Prof. Gemma Puglisi, Struffolis from Italy are a mainstay of her family's meal. And for John Douglass, a native of D.C. and director of the Film and Visual Arts Division, his fare reflects his all -American roots with a dressing featuring oysters, which historians tell us were part of the original Thanksgiving.
"Our students come from all over the world, so we value the diversity of our faculty and how their depth of experience and backgrounds enrich their teaching," says Associate Dean Rose Ann Robertson.
For many of the faculty, including Photography Prof. Leena Jayaswal, their childhoods in foreign countries didn't include the American Thanksgiving celebration. Jayaswal says there are no Indian dishes on her Thanksgiving table because "my mother-in-law does all the cooking."  
Chris Palmer, director of SOC's Center for Environmental Filmmaking, was born in Hong Kong and raised in Great Britain. He didn't celebrate the holiday until he met his wife in the U.S. Now her spinach casserole recipe (from her childhood in New Jersey) plays a crucial role in the Palmer family feast. "This dish tastes delicious and is very good for you! Our family Thanksgiving wouldn't seem complete without it," Palmer says.
All of these recipes have been handed down for generations so none of the faculty minded sharing them with their SOC colleagues and students. 
Here are a few:

Sarah Menke-Fish:
Grandma Menke's  Feudens (Faugens or Fritters) (1896) 
3 cups milk (whole milk)
6 eggs, beaten
1/2 cup sugar
1 yeast cake or 1 pkg. dry yeast
butter the size of a small egg (I use 2 Tblsp. melted butter)
2 tsp salt (I only add 1/2 tsp of salt)
1 cup of soaked currents (if you can't find currents small raisins soaked will work)
6 1/2 cups flour
1/2 tsp. cardamon

Scald milk and cool.  Soften yeast in a little warm water. Add to milk, add sugar and butter.  Add 3 cups flour and beat 2 minutes, then add rest of flour, drained currents and cardamon.  This dough is soft.  Let rise. Stir once and let rise again. After second rising drop by teaspoonfuls in deep fat or fry in a Feuden/Faugen pan.  Flip and rotate in oil or pan when deep golden brown...they will often flip themselves. When ready to use place in paper sack and warm in moderate oven or steam on stove.  When warm roll in granulated sugar and enjoy.  Feudens freeze or refrigerate well and can be enjoyed from Thanksgiving to New Years.

Gemma Puglisi:
Struffoli 
2 cups flour
3 eggs
1/4 tsp salt
2 cups oil
1 cup honey
1/2 cup sugar
3 Tbs powdered sugar

Place the flour in a large mixing bowl and make a well in center.
Add eggs and salt to the well and knead until smooth.
Roll the dough out on lightly floured board until 1/4 inch thick.
Cut the dough into 1/2 inch strips, and then cut the strips into tiny pieces 1/2 inch long.
Shape these tiny pieces into balls.
Heat oil to 350F.
Drop the struffoli into the oil a few at a time.
Cook until lightly golden, turning them constantly with a wooden spoon.
Remove balls and drain them on paper towels.
Combine the honey and sugar in a saucepan and boil over low heat about 2 minutes, stirring constantly.
Add fried struffoli, 1 cup at a time, and cook in honey syrup, stirring constantly, for 1 minute.
Remove and place struffoli on a flat plate to cool.
Sprinkle with powdered sugar as soon as they are cool enough to handle.

John Douglass:
Banya's Oyster Dressing (Banya was the late Louise Woods, a mother of one of John's friends and a great cook)  
One quart of fat, fresh oysters
1 package of Pepperidge Farm Cornmeal Dressing. (tried 4 cups from large package and added celery and onion per package instructions – cooked un-covered)
Butter
Turkey broth
1 egg 
Make up the dressing according to the package, decreasing the butter a bit and using turkey broth for liquid and include an egg. Mix with the oysters and bake at 350 in a shallow pan for about half an hour. Pour in a little more turkey broth at some point if it appears to be too dry.
Chris Palmer:
Spinach Casserole
8 packages of frozen chopped spinach
2 sour creams 
1 or 2 packages of Lipton's onion soup
Cook and drain spinach
Mix in sour cream and onion soup. Heat until hot Serve!