Communications
SOC Names Kathy R. Fitzpatrick Senior Associate Dean for Academic Affairs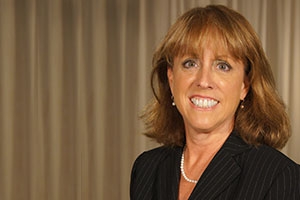 Internationally recognized scholar and seasoned academic administrator Kathy R. Fitzpatrick will become the first-ever senior associate dean for academic affairs at the American University School of Communication (AU SOC) this August, Dean Jeffrey Rutenbeck announced today.
Serving on the dean's senior staff, the position is integral to shaping the school's long-term initiatives and strategies as well as managing SOC academic affairs ranging from faculty hiring and training to student recruitment, enrollment, advising and curricular development.
"With over 25 years of experience in higher education, Kathy brings an incredible blend of teaching, research and administrative knowledge to us," Rutenbeck said. "In this newly created role, she will be focused on ensuring that our students receive a world-class education and that the School of Communication continues to play an influential role in shaping the future of media and communication."
"I am honored to join one of the top communication programs in the country and to work with the school's exceptional faculty and staff in advancing AU's leadership role in communication research and education," Fitzpatrick said. "We are in the midst of one of most dynamic and transformative times in communication, and I look forward to helping the school build on its tradition of excellence in preparing students for success in these changing times."
Fitzpatrick comes to AU from Florida International University, where she is the professor and associate dean for Graduate Programs and Research in the School of Journalism and Mass Communication. Over the course of her career, Fitzpatrick has served on the faculties and directed graduate and undergraduate programs in communication at Southern Methodist University, the University of Florida, DePaul University and Quinnipiac University. She has also been a research fellow in the Center on Public Diplomacy in the Annenberg School at the University of Southern California. Fitzpatrick received her juris doctor degree from Southern Methodist University and master's and bachelor's degrees in journalism from West Virginia University.
Since becoming dean in 2012, Rutenbeck has sought to harness the entrepreneurial experience of the SOC faculty, staff and alumni to create an environment in which new interdisciplinary approaches are encouraged. The recent formation of the senior associate dean for academic affairs and the director of strategic communication and marketing roles represent a major step in that evolution.