Academics
Student Wins Dream Job with Miami Dolphins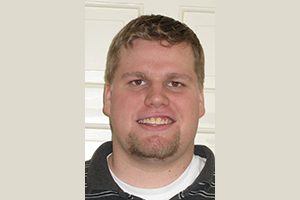 Dan Aspan, an American University senior will realize a dream come true:  a job with the Miami Dolphins, his favorite professional football team.  And he credits his success to the multimedia production skills he learned at the School of Communication.

"As a life-long Dolphins fan, it is hard to imagine that in a matter of months, I will be working for the National Football League team that I grew up watching," Dan says about his new position with the Dolphins' Internet and publications department.

Dan started his AU academic career pursuing a public policy degree, but soon he shifted to a double major that included broadcast journalism.

 "I immediately found a calling with writing, editing, and producing news, and I have always had a strong passion for sports. The broadcast concentration allowed me to combine these two fields, and by my senior year I knew I wanted to work in broadcast production of some kind," Dan says.

Dan is a new media pioneer among AU students in the broadcast track. Two years ago, in his first broadcast journalism class, he was a founder of Zero Degrees, a student group podcast (which is available again this semester on iTunes).  He also posted audio stories to the American Observer, SOC's online student magazine. 

Now, Dan not only directs student newscasts in a paid position for the Broadcast Journalism II class, he has launched Latinocast, a weekly review of news from Latin America. The solo podcast program--part of an independent study for Dan--is also online and through iTunes.  
Dan will take his multimedia and traditional broadcasting skills to South Florida and the Miami Dolphins. "During the course of training camp and into the regular season, I will be filming practices, interviews, and other web pieces to be published to miamidolphins.com, the team's official website. I will also be working every Dolphins home game," Dan says. The job "will definitely deal with web posting and updating web content as the games progress" in the summer and fall, he says.