Communications
SOC Welcomes New Faculty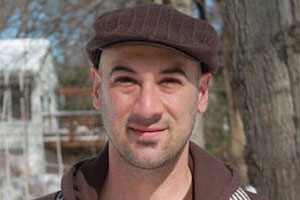 Aram Sinnreich, a new associate professor in the School of Communication, has tackled expansive research questions related to culture, law, and technology. In the Communication Studies division, he'll delve into fair use and copyright law within creative communities. And he'll continue with an ongoing project about "remix culture" and emerging cultural forms.
What is remix culture? Sinnreich examined some of these issues in his 2010 book, "Mashed Up: Music, Technology, and the Rise of Configurable Culture." "We have all of these new cultural forms that are based in the services of technologies like the laptop and the Internet. And they make it possible for us to relate to one another and to express ourselves in ways that we could not even have imagined before these amazing new platforms," he explains.
Our capitalist society is rooted in the assumption that production and consumption are separate, he says. But "as these distinctions become blurrier and blurrier, how do we reorganize ourselves as a society? And, furthermore, how do we develop new kinds of ethical standards that can accommodate differentiating between valid and invalid, or useful and wasteful?"
As an example of remix culture and its impact, he talks about the recent Planned Parenthood videos that were filmed and disseminated by an anti-abortion-rights group. "Those are remixed videos where footage has been selected and arranged in order to present a version of reality that is very different than the version that somebody else, editing the same set of videos, might present," he says.
Sinnreich grew up in New York City, and his parents gave him the freedom to explore its rich culture. He went to see Rocky Horror Picture Show productions, jazz performances, and punk shows at places like CBGB.
He started studying jazz bass. "I wrote a thousand bad songs before I finally wrote some good ones," he says. A fellow musician—and eventually his wife—hired Sinnreich to join her band, Agent 99. They still play and produce music together, with their bands Dubistry (reggae, soul, punk fusion) and Brave New Girl (jazz and R&B fusion). They also became music partners and close friends with the late Ari Up, singer of the seminal punk band the Slits.
While working at a dot.com consultancy in New York in the 1990s, he became a prolific voice about music on the Internet. He later earned his Ph.D. in communication from University of Southern California. "I wanted to ask questions about how these new technologies were changing everybody's lives, and what that would mean for freedom of speech and privacy and changing identities," he says. "And that's basically what I've been researching ever since."
Other New School of Communication Faculty:
Kathy Fitzpatrick is a professor and senior associate dean for academic affairs at SOC.
Ericka Menchen-Trevino is an assistant professor, with a focus on political communication and new media. She was previously an assistant professor at Erasmus University Rotterdam in the Netherlands.
Filippo Trevisan is an assistant professor in public communication. His research areas include political organizing and activism through new media technologies.