Television & Film
On- and Off-Screen Connections for SOC and DC Environmental Film Festival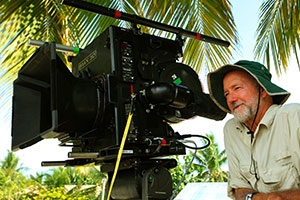 The School of Communication at American University is a proud supporter of the annual Environmental Film Festival in the Nation's Capital. This year, two films by SOC alumni and two from SOC faculty members will screen at the festival, and through a partnership led by the Center for Environmental Filmmaking, SOC will host several events in its new 144-seat Malsi Doyle and Michael Forman Theater in the McKinley Building on AU's main campus.

Our Cities, Our Planet, the 2014 festival theme, seeks to examine the challenges posed by Earth's urban environments and the efforts of the world's cities to balance environmental and economic needs.

See schedule of SOC-related screenings below.
THURSDAY, MARCH 20 at 7 PM
Journey to the South Pacific (A 3D IMAX Film)

The lush tropical islands of remote West Papua, where life flourishes above and below the sea, are the setting for this adventure, narrated by award-winning actress Cate Blanchett. Join Jawi, a young island boy, as he takes us on a journey of discovery to this magical place where we encounter whale sharks, sea turtles, manta rays and other iconic creatures of the sea. Home to more than 2,000 species of sea life, this exotic locale features the most diverse marine ecosystem on earth. An uplifting story of hope and celebration, Journey to the South Pacific highlights the importance of living in balance with the ocean planet we all call home.

Introduced by co-executive producer and SOC Professor and Center for Environmental Filmmaking Director Chris Palmer. Palmer will also moderate a discussion after the screening with Helen Fox, Director, Marine Science, World Wildlife Fund and Mike Henley, Animal Keeper and Dive Officer, National Zoological Park.


SATURDAY, MARCH 22 at 1:30 PM
Spat! Bringing Oysters Back to the Chesapeake Bay

After centuries of over-harvesting, and recurring bouts of devastating diseases, oyster populations in the Chesapeake Bay plummeted along with the profits of the industry and the health of the Bay. Now in some areas of the Bay, native oysters are more abundant and fewer are dying from disease. In 2013, more than a billion hatchery-raised baby oysters were added to the Bay and new breeds of disease-resistant, meatier, faster-growing oysters are thriving in commercial aquaculture. What will it take to bring back one of the Bay's most ecologically important organisms? Culture and ecology clash in this captivating story about one of the Bay's most important critters. Directed and produced by Sandy Cannon-Brown, Center for Environmental Filmmaking Associate Director and SOC adjunct professor. This film was developed as part of the Water Project at SOC.
TUESDAY, MARCH 25 at 7 PM (Reception at 6:30 PM)*
An Evening with Chris Palmer: Can Comedy Encourage Conservation?

In this entertaining presentation, illustrated with a wide selection of amusing clips, Professor Chris Palmer makes the case that not only can comedy be an effective way to get viewers' attention, but, paradoxically, laughter can also inspire people to take conservation and environmental issues more seriously.

Chris will also screen the winners of this year's Eco-Comedy Video Competition sponsored by the AU's Center for Environmental Filmmaking and the Sierra Club.


WEDNESDAY, MARCH 26 at 7 PM*
Student Short Environmental Film Festival
A number of short student films will be shown followed by a discussion with the filmmakers on the opportunities and challenges in environmental filmmaking. The panel will be moderated by Center for Environmental Filmmaking Associate Director Sandy Cannon-Brown, and include student filmmakers Chuyin Tian, Jazmin Garcia, Ross Godwin, Gillian Ray, and Jake Cirksena.
WEDNESDAY, MARCH 26 at 8 PM
The Bonobo Connection (Congo / USA, 2012, 32 min.)
Along with the chimpanzee, the bonobo ape is the closest human relative. This rare and intelligent species, which can only be found in one country, the Democratic Republic of Congo, in central Africa, could be the first of the great apes to go extinct, threatened by deforestation, predation for bush meat and war. To understand this powerful yet peaceloving species is to reflect on our own origin and gain insight into how we communicate with one another. Narrated by Ashley Judd. Directed and produced by SOC alumna Irene Magafan. Edited by SOC's Tom Fish.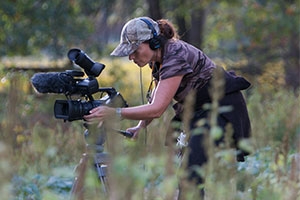 THURSDAY, MARCH 27 at 7 PM*
"Ok, I've Watched the Film, Now What?"
Film clips and panel discussion hosted and moderated by SOC's Chris Palmer, featuring Kathryn Pasternak, filmmaker, formerly with National Geographic Television; Peter Stonier, Senior Director of Visual Storytelling, Conservation International; and Melissa Thompson, Senior Video Producer, Greenpeace USA. How do we produce films that make a difference? This panel explores ways we can turn films into action at both the policy and personal levels. Our panelists consider the challenges of producing films that have a tangible and measurable impact on their audiences and society.


FRIDAY, MARCH 28 at 6:45 PM | Reception, 6:00 PM*

Presented with the Embassy of Spain
Stop! Rodando El Cambio (Spain, 2014, 70 min.) U.S. Premiere
A road trip takes us along the Spanish countryside, and into Portugal and France, making stops along the way to meet individuals and collectives that have chosen to live a simpler life. Today, limited natural resources in conjunction with unsustainable economic growth are straining the land's productivity. Hear from experts who discuss the need for an alternative way of living that benefits everyone. Introduced by Guillermo Corral, Cultural Counselor, Embassy of Spain.


FRIDAY, MARCH 28 at 8 PM*
Roaming Wild (USA, 2014, 65 min.) Washington, D.C. Premiere

This modern-day Western tells the story of an invisible battle being waged across the American West over natural resources, water and even freedom. Wild horses find themselves at the epicenter of an age-defining controversy in which the demands of modern development collide with the needs of the wild. Marlow Dahl runs a family cattle ranch in rural Nevada and grazes his cows on public lands. Jill Starr started Lifesavers Wild Horse Rescue to save wild horses from going to slaughter. Dan Elkins turns to technology to invent new solutions for managing wild horse populations. The public lands they call home are lands of limited resources and increasing demands and competition for those resources. Will family ranching in the West still be viable in the future so Marlow's children can inherit that way of life? Directed by Sylvia Johnson. Produced by Sylvia Johnson and Angelica Das. Discussion with filmmakers Sylvia Johnson and Angelica Das follows screening.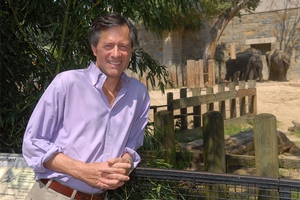 SATURDAY, MARCH 29 at 6 PM*
Shooting in the Wild (USA, 2013, 27 min.)

Nature films have become hugely popular, with viewers flocking to see jaw-dropping footage from the wild. But this success has a dark side, as veteran wildlife film producer Chris Palmer reveals in his authoritative and engrossing book on the wildlife film business, "Shooting in the Wild: An Insider's Account of Making Movies in the Animal Kingdom," on which this film is based.

Shooting in the Wild is produced by American University School of Communication, and made possible by generous grants from the Park Foundation, the Shared Earth Foundation, and the Norcross Foundation. The film aired on public television stations nationwide, and was directed and produced by Ed Beimfohr, and produced and edited by Frank Fitzmaurice. Introduction and post-screening discussion.


SATURDAY, MARCH 29 at 7 PM (Reception at 5:00 pm)*
Farming For the Future: Enduring Traditions - Innovative Practices

This session will illustrate how farmers are expanding their farming traditions and practices to meet the demand for sustainable, locally grown food while ensuring that farming remains a profitable career. Panel discussion follows screening of five short films, including Farming for the Future by filmmaker Aditi Desai.

Host and moderator: Chris Palmer, Director, Center for Environmental Filmmaking, American University. Panelists: Aditi Desai, Director, Farming for the Future; Bill Howard, Executive Director, The Downstream Project; Chris Miller, President, Piedmont Environmental Council; Kristin Pauly, Managing Director, Prince Charitable Trusts; and Michael Peterson, Founder, Heritage Hollow Farms.
*Forman Theater, 201 McKinley Building, American University, 4400 Massachusetts Avenue, NW, Washington, DC 20016 | Directions | Metro: Tenleytown/AU, shuttle service to AU