Achievements
Ellen Mata Named Staffer of the Year by School of Communication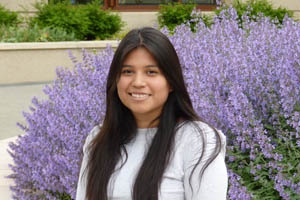 Friendly. Dependable. Professional. These are a few of the words co-workers use to describe Ellen Mata, American University School of Communication Staffer of the Year. This is the first year the award has been presented. An extension of the AU university staff performance awards, the award formally recognizes outstanding performance by a full-time staff member at SOC. It is given to a staff member who achieved outstanding results and/or demonstrated outstanding service and commitment to the school.
Mata joined the School of Communication staff in the summer of 2008 as the Senior Administrative Assistant for the undergraduate office. In addition to her work at SOC, she is currently attending Montgomery College, taking classes to pursue a career in Nursing with a focus on pediatrics. She says that balancing the two can be hard, but "I'll be the first of [my parents'] daughters to go to college and I want to finish college so they can be proud of me."
But Mata's job at SOC doesn't take a back seat to her future goals. She considers it a career in itself. "Working at AU is great. This is the right place for me to be right now. I have a lot of resources and get to meet people."
Mata was nominated for the award by Jill Heitzmann , SOC Senior Advisor, Undergraduate Recruitment & Retention, who says that Mata consistently goes above and beyond her duties at the front desk of SOC. "It's so rare to find somebody that has that much passion and positive energy to pass around the office," says Heitzmann. We sat down with Mata and Heitzmann to talk about Mata's role at SOC and learn more about why she is the staffer of the year.
The Face of SOC
From her seat at the front desk of the SOC Main Reception and Undergraduate Advising Office, Mata is the first person that many prospective students and their families encounter, and is the person current students meet when coming to see their advisors. SOC faculty, staff, alumni, and visitors attending events are also all greeted by Mata.

Mata: This position is great. I get to meet the students, faculty, staff, and I get to see all the things they're doing career-wise. It gives me hope when I see students focusing, taking classes and going to work. Everybody is a go-getter here at SOC. It's not pediatrics, but I get to spend time with students and communicate with them. That's helpful for me because if I'm going to be a nurse, I need to know how to communicate with kids, teens and young adults. Especially if I'm going to be working in an emergency room, I want to make it as comfortable as possible.
Heitzmann: Ellen has a huge impact in the AU Strategic Plan goals of recruitment and retention. When families visit, that office is the first impression they get. So their first impression of Ellen affects how they view the entire School.
Mentoring and Training Student Workers
Mata also oversees a staff of student workers, and has developed a training and feedback program for them, similar to the system used by AU Human Resources for full-time staff. She takes the responsibility of hiring and managing the students seriously. "Students in this position are a reflection of myself."

Mata: I wanted to make the student staff handbook my own and give the work-study students the experience of working in the real world. Sometimes a student wants to do homework, but they need to understand the demands of a job in the real world. I feel that by meeting for performace evaluations we can avoid miscommunication and get and give feedback and ensure the front desk runs successfully.
Heitzmann: She wants to be a mentor to the students because often this is a student's first professional job. They may not be aware of the proper professional behavior required for an administrative office. She's teaching them how to work as a professional staff member
New Projects
Now that her student employee program is running smoothly, Mata is working on a long-term project to help the office go paperless, by digitizing archived student records. She's also focused on making the front desk more visitor-friendly.
Heitzmann: Incoming freshman will be able to register for classes on their own this summer. Ellen has taken initiative to set up training sessions with the academic advisors to become more familiar with the Freshman Guide. She can answer frequently asked questions and she's training her student staff to be able to answer those questions as well.
Teamwork

Mata: I work with a great team. Anytime I find myself not being able to answer a question, one of the advisors will come to my side and help me out. I call them my "superwomen". So it's nice that I get a chance to work with such a great team to support me, teach me and help out in certain situations.
Heitzmann: The phone is always ringing, people are always walking in with questions and yet she's still able to offer service with a smile while completing her own projects.
Mata: After working here for 3 years, I've learned a lot. An Administrative Assistant in SPA, James Helms, helped me find AU resources that helped answer a lot of frequently asked questions.
And everyone is friendly. I don't always feel like smiling. But I feel if I'm smiling then I can make another person smile, and be happy.
On Winning the Award
Mata: I can't express myself enough to say how thankful I am. [The undergraduate office] is so inspirational to me, and [Heitzmann] and the advisors are always there for me. I'm very lucky.