Communications
New Certificate Program Steps Up AU's Online Offerings
By Rosemary D'Amour
November 15, 2011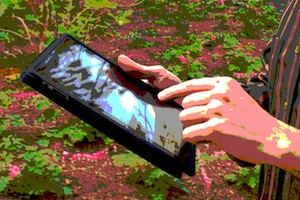 A new online certificate program offered by American University's School of Communication is ideal for communications professionals who want to develop digital media skills to advance or recharge their careers.
SOC's Online Digital Media Certificate, a 12-month program debuting in March 2012 and offered entirely online, presents students and professionals alike with a unique opportunity to advance their technical media skills in combination with a theoretical communication perspective. This is the first all-online program offered by American University.  
The program's embrace of new technologies in education is reflective of SOC's core philosophy of using innovative methods to not only reach students, but to engage them, said the program's director, Professor Brigid Maher.  
"We don't teach button-pushing in SOC, we always teach the why behind the how," Maher said. "In the certificate we teach theory within the framework of the digital media skills curriculum, so that students have a grounded context for why they are developing the skills and how they use them in the professional world."  
The idea for the program originated nearly four years ago, Maher said, and is targeted for those whose educations lacked online media skills, such as social media and web development, and are therefore at a disadvantage in the current media landscape. She added that the curriculum's focus on practicality would benefit students in the long run.  
"It's uniquely tied to the professional community through grounded, real world projects in each class," Maher said. "For instance, students will be required to work with a client to produce a digital media campaign or project in their capstone class."  
Though the certificate is not yet available, certificate faculty have taught courses similar to those in the certificate program, on similar topics, have been lauded by students. 
"The digital media classes I took at AU were invaluable to me in the real world," said Julia Ziegler, a web manager at FederalNewsRadio.com, who said that her coursework made her more valuable to her employer. "From Twitter, to blogging, to audio and video podcasting, each week I was able to take something I learned in class and use it at my job." 
Francine Blume, Director of Experimental Education at AU's Career Center, said that her experience was unexpected, transcending stereotypes of the online learning environment.  
"My experience was so much more than participating in a 'how-to' seminar," she said of her social media course. "It enhanced my abilities as a professional, so that I can ask the right questions and creatively meet the needs of our client base." 
"What I took away was an education that addressed not only my professional life but has enabled me to see and understand the world in all aspects of my life," Blume added.