On Campus
School of Communication's Dean Kirkman to Step Down at End of Academic Year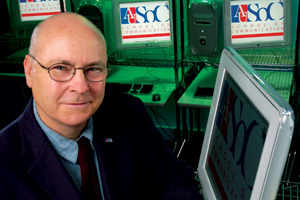 Larry Kirkman has decided to step down as dean of the School of Communication at the end of this academic year after 11 years in the position.  He will return as a Professor in the Film and Media Arts division in fall of 2013 following a one-year sabbatical.  He said that "with plans in place for the renovation of McKinley as SOC's new home, it is the right time to recruit new leadership for the next decade."
In a letter to the AU community Provost Scott Bass wrote, "The School of Communication has been transformed under the leadership of Dean Larry Kirkman, with new academic programs, centers of professional innovation and scholarship, prestigious partnerships and development of new facilities."
Of his vision and contribution, President Neil Kerwin said:
"Larry Kirkman came to the deanship of the School of Communication at a critical juncture for his field.  He understood the importance of the seismic changes that were afoot in communication, broadly defined, and he led SOC with vision and discipline to a position of leadership in what is now a transformed landscape.  The number of new programs and approaches he brought the SOC are too numerous to list and far too important for facile description.  Suffice it to say that Larry Kirkman revolutionized communications education at American University and positioned our programs to compete at the very highest levels for years to come."
In his announcement to SOC faculty and staff at its 11th annual retreat, held at USA Today headquarters in Virginia, Dean Kirkman said, "This position is an exceptional opportunity that will attract experienced, visionary candidates who can enhance the school's leadership role in communication education, professional practice, and scholarship and guide us to a new level of achievement.  My successor will join a school with the critical elements in place for the next stage in our evolution: a strong faculty and staff; the new building; new graduate programs; an engaged alumni base; good technology; leading centers for professional innovation and research, with a strong track record of external funding; and, major media partnerships.
I am looking forward to using my final year as dean to further consolidate what we have built together.  And, after I step down, I promise to continue to work with you and the new dean to advance our shared goals.  I will do all I can to ensure that my institutional knowledge is preserved and the stakeholder relationships I have developed continue to enhance our mission."
Under the leadership of Dean Kirkman, the school:
Reformed curricula in response to the changing environment for the professions and the emerging digital landscape, developing dozens of new courses, for example, in health, environment and science communication; race, ethnic and community reporting; digital skills and social media.
Created the PhD in Communication and established a Division of Communication Studies; created the interdisciplinary MA degrees in Political Communication with SPA and International Media with SIS; worked with Kogod School of Business to launch a minor in Marketing for SOC students; and, grew a summer High School program, Discover the World of Communication, from 35 to 400 students;
Grew the faculty from 36 to 49 full-time positions and recruited more than 30 new faculty, including senior tenured professors, veteran professionals in-residence, and a new generation of tenure-track scholars and professional innovators;
Established the Center for Social Media, Investigative Reporting Workshop and Center for Environmental Filmmaking; acquired J-Lab: The Institute for Interactive Journalism from the University of Maryland and Current, the journal of public media, from WNET-TV; and, by the end of FY 2011, raised more than $16 million in external funding, including grants from Ford, Knight, MacArthur and other major foundations;
Created prestigious partnerships with major media organizations for public programs and as outlets for faculty and student work, applied research and experiential learning, including The Washington Post, USA Today and Gannett, NBC, PBS' Frontline, the Newseum, American Film Institute, Associated Press, Smithsonian's National Museum of American History and Anacostia Community Museum, Maryland Public TV, National Park Service, Link TV, NOAA, BNA and New America Media;
Built a base of alumni support, established a Dean's Council and created activities to engage alumni in the substantive life of the School, including an extensive alumni/student mentoring program in which 458 students have been mentored by 216 different alumni;
Established faculty committees for diversity and assessment and adopted comprehensive plans for both;
Upgraded its TV studio, post-production facilities, teaching labs and location equipment, and made the transition to HD; and,
Created a vision, program and plans for a new home for SOC in a fully renovated historic building on campus, which will be completed in 2014.
In the last ten years, the School's programs have received strong external professional and academic validation.  The Film and Media Arts Division was inducted into CILECT, the international association of film and television schools, one of only 16 U.S. programs.  The three-year MFA in Film and Electronic Media grew in stature, with two thesis projects winning student Oscars.
In 2003 and 2009, the Journalism and Public Communication programs received reaccreditation from the Accrediting Council on Education in Journalism and Mass Communications, with top marks on all standards, including curriculum and teaching, scholarship, diversity, advising, technology, assessment and professional and public service.
The 2008 site-visit team, with members from Syracuse, NYU, University of North Carolina, and the Poynter Institute wrote,  "American University's School of Communication has enjoyed incredible success in the last six years. The School is led by a highly motivated and visionary Dean, guided by a forward-thinking mission statement, steered by a multi-faceted strategic plan and supported by a collegial group of productive faculty."  They found  "outstanding leadership, clear sense of vision and a strong plan of action"… "a productive, committed, accessible faculty, consisting of both veteran, accomplished professionals and productive scholars" … "a balance between theoretical and conceptual and professional courses,"  "an engaged, enthusiastic student body," and "a curriculum that takes full advantage of the School's location."  They concluded that Dean Kirkman's "vision, energy and focus have given the School a real momentum and put it on the national stage with major partnerships."
When he became dean in July 2001, Larry Kirkman spoke about the significance of the digital transformation and the opportunity for the School to serve as a "laboratory to rethink and reinvent communication as a field of study and research, as a profession and as a social responsibility."  In 2001, SOC sought a dean who could embrace all three of its academic divisions, Journalism, Film and Media Arts and Public Communication, and enable the professional, creative and scholarly work of faculty and students.  Dean Kirkman's background in public affairs television, strategic communication for nonprofit organizations, social advertising, public interest communications policy, and the creation of online services for public information, education and advocacy, prepared him to provide leadership for the whole school. 
Dean Kirkman first came to AU in 1976 to create a video track in the film program. At the time he was producing documentaries for public television and editing TeleVisions, a journal on the new media of the day—video, cable, and satellites— funded by the National Endowment for the Arts. He left AU in 1979 to set up the TV and Video program at the American Film Institute, where he produced the first National Video Festival at The Kennedy Center. In the 1980s, he brought the AFL-CIO into the information age with its first national advertising campaigns, including Union Yes, public television programs, including the America Works series, electronic conventions, and national videoconferences. In the 1990s, he directed the Benton Foundation, where he produced national conferences, research, and demonstration projects that defined and promoted the public interest capacities of the new media, programs supported with funding from major foundations, including Kellogg, Carnegie, Packard, MacArthur, Ford, Rockefeller and Atlantic.  At Benton, he was responsible for the Connect for Kids campaign with the Advertising Council, which received more than $300 million in donated media, produced the first Advocacy Video Conference, launched the US Center of OneWorld.net, with a daily service on Yahoo World News, and edited Strategic Communications for Nonprofits, a series of ten media guides that informed and promoted an integrated approach to nonprofit communication practice.
Provost Scott Bass has said that a national search for a new dean will be initiated as soon as possible. Details about the search and announcement of an event celebrating Dean Kirkman's contributions will be shared at a later date.